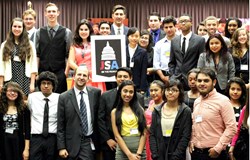 "Giving to the Junior State of America is a great investment in the future, because it supports young people of all political stripes who care deeply about this country."-JSA Chief Development Officer Matt Patchell
San Mateo, CA (PRWEB) October 31, 2013
The Junior State of America (JSA) announced today that they have surpassed several all-time fundraising records. Among these records are previous bests for number of donors, number of new donors, number of returning donors, amount of money raised, and the amount of money raised by students. The funds raised will go to support JSA's mission to promote civic engagement and leadership in high school students nationwide.
JSA staff, students, and alumni were excited by the results of their hard work. "Giving to the Junior State of America is a great investment in the future, because it supports young people of all political stripes who care deeply about this country," said JSA Chief Development Officer Matt Patchell.
This year, JSA's fundraising efforts included a significant effort from students. Student leaders from JSA reached out to their peers and parents, raising nearly $30,000 on their own, a greater sum than ever before. The Council of Governors, JSA's student leadership body decided that this year would include an increased focus on securing funding for students to attend JSA conventions.
Junior State of America (JSA): Providing civics engagement and leadership programs for nearly 80 years, JSA is the largest student-run organization in the United States. School-year programs take place in more than 450 secondary schools in 35 states, with more than 10,000 members. The JSA program is supported by the Junior Statesmen Foundation Inc., a 501(c)(3) tax-exempt educational corporation, which provides guidance to JSA's student leaders. It has offices in San Mateo, Calif., and Washington, D.C. More information is available at http://www.jsa.org or jsa(at)jsa(dot)org.