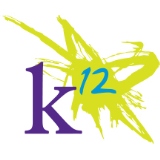 K12 Recognizes First Graduates Ever To Complete Elementary Through High School Education Online
Herndon, VA (PRWEB) June 20, 2013
K12 Inc. (NYSE: LRN), America's largest provider of proprietary curriculum and online school programs in kindergarten through high school, reported a record number of students across the U.S. graduated from its partner schools this year.
Across the U.S., over 4,000 students graduated this year from online and blended schools using the award-winning K12® program.
K12 is also recognizing an important education milestone: the first set of graduates born in the "Internet Age" to complete their elementary, middle school and high school education in a K12-operated online school. Four students who graduated from Colorado Virtual Academy were enrolled in the online public school since it opened in 2001. The students excelled in online school, graduating with high marks while pursuing numerous extracurricular activities.
In partnership with school districts and charter schools, K12 operates online and blended public schools in 33 states and the District of Columbia. K12's curriculum, digital courses and academic programs are used by over 2,000 school districts across all 50 states. K12 also operates accredited online private schools serving students in the U.S. and over 80 countries worldwide.
Over the past month, K12-partner online high schools hosted graduation ceremonies to celebrate the class of 2013.
K12 Inc. Founder, Ron Packard, a pioneer in education and author of the new book, Education Transformation, delivered commencement addresses at a number of graduation ceremonies. At a recent event in Colorado, Packard honored the four pioneering Colorado graduates from Colorado Virtual Academy, and he also received The Presidential Award from the Colorado Virtual Academy Board of Directors in honor of his service and in observance of K12's contribution to students.
"While this is still a new phenomenon in America, I believe we're beginning to witness a true tipping point," said Ron Packard. "The first wave of graduates to matriculate through one of K12's partner schools from elementary through high school coincides with a rapidly expanding number of students enrolling in online and blended schools across America. Education is being transformed by the power of technology. It is driving innovation in school districts large and small, personalizing learning in ways never seen before, and expanding choices for parents and opportunities for students."
K12-partner online and blended schools are able to offer highly individualized learning programs where students access rigorous curricula and diverse course electives, with the ability to learn at their own time and pace. K12 is designed to ensure students are college and career ready upon graduation, and are prepared for the rigorous academic experiences of colleges, universities, and other post-secondary institutions. With K12, students develop the skills of self-learning and hard work essential to succeed at the next level.
Each graduate has a unique story, and their reasons for choosing K12-partner online schools are as diverse as the student population itself. Some chose online schools because it allowed them to learn at an advanced pace and take college-level courses, while others came to online schools to find refuge from unsafe schools, bullying, or negative peer pressures. K12 has also helped graduates with special needs overcome learning challenges, and provided new opportunities to students who had dropped out of school.
In Chicago, the K12-powered Youth Connection Charter School Virtual High School (YCCS Virtual High School) – an innovative blended charter school – is giving at-risk students who had formerly dropped out of school a second chance to earn a diploma. In this blended school model, students between ages 18-21 combine online learning and classroom work with flexible hours that adapt to their individual schedules, academic needs, and life circumstances.
On Monday, June 17, YCCS Virtual High School honored its fourth graduating class in a ceremony at Malcolm X College. Now with diplomas in hand, 85 graduates of YCCS Virtual High School – students who overcame significant obstacles and challenges – are heading off to their colleges and careers.
"K12 is extremely proud of all of the students who graduated from the online and blended schools we are so privileged to serve," said Nate Davis, Executive Chairman of K12 Inc. "Congratulations, class of 2013."
About K12 Inc.
K12 Inc. (NYSE: LRN) is leading the transformation to individualized learning as the nation's foremost provider of technology-powered proprietary online solutions for students in pre-kindergarten through high school. K12 has worked with more than 2,000 school districts and has delivered more than 4 million courses over the past decade. K12 provides curricula, academic services, and learning solutions to public schools and districts, traditional classrooms, blended school programs, and families. K12 's curriculum is rooted in decades of research combined with 21st-century technology by cognitive scientists, interactive designers, and teachers. K12 's portfolio of more than 550 unique courses and titles—the most extensive in the technology-based education industry—covers every core subject and four academic levels for high school, including Honors and AP. K12 offers credit recovery courses, career-building electives, remediation support, six world languages, and a deep STEM offering. The K12 Program is offered through K12 partner public schools in more than two-thirds of the states and the District of Columbia, and through private schools serving students in all 50 states and 85 countries. More information can be found at http://www.K12.com
© 2013 K12 Inc. K12 is a registered trademark, and the K12 logo is a trademark of K12 Inc. All other trademarks are the property of their respective owners.