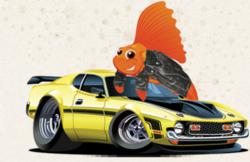 I would strongly urge all parents to educate their kids about finances. Teach them what credit is, teach them about savings and interest and debt.
New York, NY (PRWEB) January 31, 2013
RoadFish.com men's lifestyle and finance magazine today offered tips for parents and young adults on how to get a credit history started despite the catch-22 of earning credit without having a history to open the first credit line with. RoadFish.com addressed the tricky situation and doled out suggestions about not only developing a credit history, but also instilling good financial know-how in youngsters.
RoadFish.com's Senior staff writer stated that it can be really difficult for teens and young adults to take their first step into the world of credit, especially if they're not completely solid on how to go about doing so. RoadFish.com's Senior staff writer is quoted as saying, "I'm drawing from personal experience when I say that it can be really tough to get on solid financial footing when you have no idea what you're doing as a young adult. My parents never talked finances in our house, never taught me about credit, interest, loans, credit scores, or the meaning of 'APR.' I had to have my mom co-sign on my first two apartments because I had no credit history, and I was 26-years-old by the time I got my first credit card because I finally had enough history to prove that I was a trustworthy borrower."
RoadFish.com recommends that parents help their kids get a jump-start on their credit history by making their kids authorized users on mom and dad's credit card—when the kids are mature enough, of course. A recent CNN Money article addressed this exact issue, where a reader questioned whether or not making her 16-year-old daughter an authorized user on her credit card would have a good affect on her credit history. Columnist Lauren Gensler explains that yes, this would be helpful, and explains that the three big reporting agencies will start a file on her, thus the beginning of her credit history. The article quotes credit expert John Ulzheimer as referring to this move as a "credit card with training wheels," calling it the "best and most common way for a young person to build credit."
RoadFish.com points out that the catch is obviously keeping up with the payments and not charging too much to the card, or else the plan will backfire. Another tip RoadFish.com offered parents is to open a gas or retail store credit card while they're still living at home. These types of credit cards are easier to open than regular credit cards and come with lower limits. Then, parents can monitor the spending, go over the monthly bills with their child, help them understand what happens if a late payment is made and otherwise establish some credit and some financial confidence in their child.
RoadFish.com also encourages parents to be frank with their children, and help them to understand the vocabulary so that they are armed with knowledge when they leave for college or move out. RoadFish.com's Senior staff writer is quoted as saying, "It sounds corny, but knowledge is power, and I only had a teeny bit of financial knowledge when I moved out to start college. I would strongly urge all parents to educate their kids about finances. Teach them what credit is, teach them about savings and interest and debt. Show them how to build a monthly budget, let them watch you manage your money. And don't be afraid to share your financial blunders with them. Be honest about the mistakes you've made with money, so that they can learn from them. Teach them to check their credit score free once per year, to see how they're doing, and teach them how a credit score is determined. Show them your credit report, show them where you're not doing so hot and where you're doing great. And—it's going to sound corny again, I know—but you can never start young enough."
According to the above-mentioned CNN Money article, the three credit reporting agencies have different age limits for when they begin making credit data available on a consumer. Equifax will calculate someone's score at age 16, TransUnion at 17, and Experian at age 18.
About RoadFish.com:
RoadFish.com lifestyle and finance magazine is an online publication designed for men in their 30's and 40's. It is aimed at men who find motivation within themselves to set new goals and then strive to achieve them, for men who are always looking for the next great challenge in life. The online magazine features articles about luxury items such as mens luxury watches best brands, restaurant and hotel reviews, hot chicks and dating advice. From a financial standpoint, RoadFish.com offers advice and tips on everything from creating a monthly budget to tips for managing credit. RoadFish.com is owned and operated by Purpose, Inc.