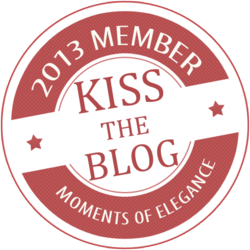 We are excited to be able to give these sites the recognition that they deserve.
Chicago, IL (PRWEB) June 28, 2013
After 2 weeks of submissions and voting, receiving over 200 submissions, MomentsofElegance.com has considered the entries and categories, and finalized their list of this year's "Kiss the Blog" list of the most inspired wedding and special events blogs. The Kiss the Blog list details the top 10 blogs in the following categories: wedding planning, party planning, photography, DIY ideas and birthday parties. Their event professionals rated the submitted blogs on the following categories: quality and aesthetics of site design, professional publication of posts and available information, consistency and recency of new and beneficial content, additional features offered by the site, response/feedback of site users, and uniqueness of content posted, number of submissions and/or votes received. Each site was rated on a scale of 1-10 and the final scores determining the top 10 blogs in each category.
"We want to commend our 'Kiss the Blog' winners for the work they do in providing new and unique ideas to party and event planners everywhere" says Naomi Vail, "we are excited to be able to give these sites the recognition that they deserve."
Each of the winning websites will be posted and linked to via the Moments of Elegance Blog in the "Kiss the Blog" section and will receive a badge that they can post onto their website to show off their win.
"We hope this list will be a great tool and resource for brides who use our site to buy wedding favors and gifts, who may be looking for inspiration and ideas from some of the top creative bloggers and minds in the industry" says Vail.
The list will be published on MomentsofElegance.com/Blog until June 2014 when a new "Kiss the Blog" list will be awarded.