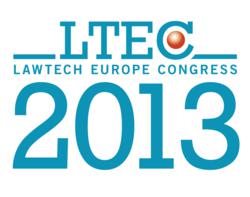 We are pleased to have several highly respected organizations as a part of our LawTech Europe Congress 2013 event in Prague.
Prague, Czech Republic (PRWEB) May 30, 2013
When #LTEC2013 opens its doors in October, it will bring top-tier industry sponsors to Central and Eastern Europe where electronic evidence, forensics, and legal technology solutions are badly needed. The aim of the conference is to close the gap, bringing the region up to par with the U.S. and Western Europe.
"We are pleased to have several highly respected organizations as a part of our LawTech Europe Congress 2013 event in Prague," said Frederick Gyebi-Ababio, managing director of LawTech Europe Congress. "The sponsor's support helps our team take this conference to the highest level of educational content and creates an overall optimal conference experience."
Here is a highlight of our current silver sponsors.
Symantec
Symantec is a Global leader in providing security, storage and systems management solutions to help our customers, from consumers and small businesses to the largest global organisations, secure and manage their information-driven world against more risks at more points, more completely and efficiently.
RAC
Risk Analysis Consultants is a Czech based provider of information security professional services and technical solutions. We have been assisting our clients in government and commercial sectors to protect their information systems since 1995.
Tracker Products
At Tracker Products, there is a love for advancements in technology. They have mastered the nuts and bolts of what makes the world's most effective bar code tracking system excel so you don't have to. It's never been this simple to manage chain-of-custody tracking software.
Apt Search
Apt Search and Selection Limited (APT Search) are the UK's first recruitment specialists fully dedicated to the eDiscovery and Litigation Support sectors. The team has extensive knowledge in identifying and filling critical job vacancies within legal firms, consultancies and software vendors, and confidentially seeking opportunities for skilled individuals.
Rowan Legal
ROWAN LEGAL provides clients with comprehensive legal support in business transactions; within development and investment projects as well as usual day-to-day activity. Legal consultancy is based on detailed knowledge of the law and related judicature and legal theory that the firm's lawyers continuously confront with the changing business environment.
LawTech Europe Congress looks forward to continuing its mutually beneficial relationships with these outstanding sponsors. These prominent sponsors will not only bring immense benefit to the conference but they are also leaders in their own right.
About LawTech Europe Congress:
LawTech Europe Congress's mission is to create cutting edge legal technology educational forums that address three core areas, e-discovery, forensics, and e-crime prosecution. These disciplines are in the forefront within organizations globally and LTEC's guiding philosophy is to embrace solutions to empower law firms and corporations to reduce risk, limit the potential for expensive litigation exposure and to increase overall competence within the legal industry. This philosophy is vital in generating significant awareness for legal professionals and the organizations they support. Delegates will be engaged throughout our events with advanced topic panel sessions, hands on workshops, roundtable discussions and private demonstrations of the latest e-discovery solutions. Our company strategically focuses on best practices and how they fit into upholding a high level educational structure. LawTech Europe Congress has set out to provide relevant solutions and advice to legal professionals today.