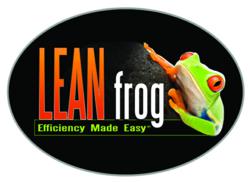 Huntsville, Alabama (PRWEB) February 16, 2013
Lean Frog Business Solutions has one more achievement to add it its long list of credentials. President of LEAN Frog Byron Headrick has recently been awarded his Master Six Sigma Certification.
According to the American Society of Quality Control (ASQ), the Master Six Sigma Certification is a significant achievement, stating "certification is a mark of career excellence and aimed at individuals who possess exceptional expertise and knowledge of current industry practice. Master Black Belts have outstanding leadership ability, are innovative, and demonstrate a strong commitment to the practice and advancement of quality and improvement."
Started in 2009 by founder Byron Headrick, LEAN Frog is a Huntsville, Alabama-based company that utilizes Lean Six Sigma tools to help organizations strengthen, streamline and grow their companies by "making efficiency easy."
Byron Headrick has over 20 years of experience using LEAN Six Sigma tools. His areas of concentration include manufacturing, small businesses, medical professions and recently School Districts in Alabama. He has, to date, completed assessments and made recommendations in many non-instructional School District departments throughout Alabama -- Huntsville City Schools; Madison City Schools; Madison County Schools; Morgan County Schools; Chambers County Schools; Tallapoosa County Schools; Fayette County Schools; Phenix City Schools. Most notable is Byron's on gong work with Huntsville City Schools where in 2012, LEAN Frog helped to save the school system over $7 Million.
Byron was recently nominated for Executive of the Year for the Huntsville/Madison County Chamber of Commerce and his company was named a Finalist for the Madison Chamber of Commerce Small Business of the Year. He was named to the Presidential Who's Who Among Business and Professional Achievers of 2009-2010, and Calhoun Community College awarded him recognition for contributions toward the Center for Manufacturing Innovations Initiative in 2008.
For more information on Byron and Lean Frog Business Solutions, visit their web site at http://www.theleanleap.com or on their Lean Frog Linkedin page.