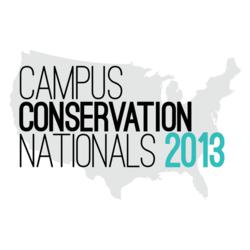 As CCN continues to grow and expand, we are amazed at the impact students and staff are able to make. — Lauren Miller, Director of Engagement at Lucid
Washington, DC and Oakland, CA (PRWEB) May 01, 2013
Lucid in partnership with The Center for Green Schools at the U.S. Green Building Council (USGBC), the National Wildlife Federation, and the Alliance to Save Energy, is pleased to announce the results of the 2013 Campus Conservation Nationals (CCN) competition. This year more than 300,000 students at 120 colleges and universities across the U.S. and Canada collectively saved 2,114,844 kilowatt-hours of electricity — equivalent to averting 2,426,040 pounds of CO2 from the atmosphere and saving $160,000. Students also saved nearly 1,681,241 million gallons of water, or the equivalent of 11,208 hours of shower use.
From Feb. 4 to April 26, students, faculty, and staff switched off unused electronics, took shorter showers, and turned off lights in common areas, all to see which campus could save the most. Participants organized events, utilized social media and launched creative marketing campaigns to motivate their peers to take personal actions and encourage change in building operations. Through thousands of direct actions and collective effort, CCN participants demonstrated that personal actions could significantly reduce energy use and advance the sustainability of their schools.
"When you see a tangible mobilization of students this large reducing energy consumption, promoting sustainability, and actively mitigating the effects of climate change, it is clear our generation is ready for change and no longer willing to wait for decision makers to address the issues at hand," said Hannah Debelius, USGBC Students program lead at The Center for Green Schools.
"As CCN continues to grow and expand, we are amazed at the impact students and staff are able to make," said Lauren Miller, director of engagement at Lucid. "These students are demonstrating that creating a culture of conservation and inspiring individuals to change their behaviors can significantly reduce their campus' carbon footprint."
The National Wildlife Federation (NWF) also hosted a CCN video contest, offering a $1,000 grand prize to the school with the best video documenting students taking positive actions on their campus.
"The video submissions this year were really tremendous," said Kristy Jones, senior manager of the Campus Ecology program at NWF. "The videos are inspiring documentation of the kind of creative actions students are taking to address climate change and improve the sustainability of their universities."
Participating schools used Lucid's Building Dashboard® to compare performance, share winning strategies, and track standings among the leading schools and buildings. With generous support from United Technologies Corp, founding sponsor of The Center for Green Schools at USGBC, and Constellation, an Exelon Company, CCN gave students and staff an opportunity to organize and make immediate and lasting impacts on their school's carbon emissions and campus culture.
To learn more about the results of the competition and watch the CCN videos visit CompeteToReduce.org/results.
About Lucid
Founded in 2004, Lucid is a privately held software company and a pioneer in providing real-time information feedback to teach, inspire behavior change and save energy and water resources in buildings. Over the past nine years, Lucid's team has endeavored to make resource use visible, accessible and engaging so that building occupants have the data visualization and communication tools to manage and reduce their consumption. Visit luciddesigngroup.com, or follow Lucid on Twitter @luciddg, Facebook, Google+, and LinkedIn.
About the Center for Green Schools at USGBC
The Center for Green Schools at the U.S. Green Building Council is making sure every student has the opportunity to attend a green school within this generation. From kindergarten to college and beyond, the Center works directly with staff, teachers, facility, students, ambassadors, elected officials and communities to drive the transformation of all schools into sustainable places to live and learn, work and play. For more information, visit centerforgreenschools.org, follow us on Twitter at @mygreenschools, and like us on Facebook.