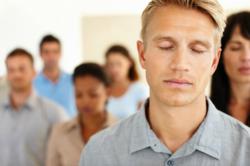 "For years I have been in love with the idea of meditation as a daily practice," said YogaSoul teacher Tom Murphy. "After experiencing meditation with Gurucharan Singh Khalsa, I am in love with meditation as a daily practice."
Eagan, Minnesota (PRWEB) April 17, 2013
A world-renowned yoga master and teacher is coming to YogaSou l Center in Eagan to teach a weekend of special workshops on meditation and the mind.
Gurucharan Singh Khalsa, a psychotherapist, teacher, writer and expert in Kundalini Yoga as taught by Yogi Bhajan, is coming to YogaSoul to teach five workshops. He will help students explore the secrets to a great meditation practice. Each of the sessions will focus on a particular topic: the nature of the three minds; mental strength, or how we shift gears; stillness as a gateway to intuition; how we create something absolutely new and begin again; how to prepare the body to enjoy meditation and more.
Khalsa, who is based in Portland, Ore., will be here Friday, April 26, Saturday, April 27, and Sunday, April 28 to offer these five workshops, which are open to students of all experience levels. The Friday workshop takes place from 6:30 p.m. to 8:30 p.m.; Saturday's session is from 9 a.m. to 12 p.m.; and that afternoon another workshop will happen from 1:30 p.m. to 5:30 p.m. On Sunday, he will follow the same schedule as Saturday, with one workshop happening from 9 a.m. to 12 p.m. and another taking place from 1:30 p.m. to 5:30 p.m.
Friday's workshop costs $45 to attend. On Saturday and Sunday, each workshop costs $89, or you can attend all four for $340.
Khalsa's background is one of extraordinary depth and breadth. He studied mathematics and chemistry at Harvey Mudd College and graduate mathematic studies at Claremont Graduate School, and attended Boston University for a Masters in counseling. He has a doctorate in psychology. He has taught at MIT and the University of Guadalajara; he has been affiliated with the Center for Psychology and Social Change at Harvard University; he has completed original research on the cognitive and physiological impact of meditation; and he has trained thousands of yoga teachers, and has trained thousands of yoga teachers around the world.
"For years I have been in love with the idea of meditation as a daily practice," said yoga instructor Tom Murphy. "After experiencing meditation with Gurucharan Singh Khalsa, I am in love with meditation as a daily practice."
For questions about the workshops, e-mail info (at) yogasoul-center (dot) com or call 651-452-5789.
YogaSoul Center's mission is to help clients win the battle against stress. It has an extensive class offering in several styles of yoga, including Kundalini, Hatha and Yin. It boasts a fully equipped STOTT Pilates studio and also offers Tai Chi. Its full roster of teachers and healers provide clients with a variety of healing services, including intuitive readings, Reiki, Thai yoga bodywork, Ayurveda, energy work and several others. YogaSoul also hosts special workshops and yoga teacher training.
To see a full schedule, make an appointment with a healer or sign up for a class, visit YogaSoul's
website, http://yogasoul-center.com/. New students get their first week of classes free.