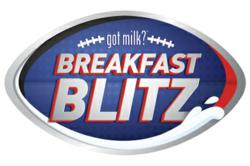 "Through the Breakfast Blitz, families can fuel active, successful days for everyone in the house, as well as help make this possible for more students in schools."
St. Paul, MN (PRWEB) January 11, 2013
Fuel Up to Play 60 and America's milk processors have partnered on a Breakfast Blitz contest to make $250,000 in grants available to schools across the country to help give kids greater access to a healthy breakfast. Participation in the contest, which runs now through Feb. 17, 2013, involves entering milk UPC codes on MilkMustache.com. For each UPC code entered, a person can vote for a local school to win one of 250 $1,000 Fuel Up to Play 60 grants, as well as earn a chance to win prizes, including a trip to Super Bowl XLVIII in 2014.
The Fuel Up to Play 60 program, launched by the National Dairy Council and the National Football League and in collaboration with the USDA, is available in schools nationwide and encourages kids to eat healthy and be active for 60 minutes a day. Given the documented connection between eating breakfast and improved performance in school, and the fact that children who skip a morning meal rarely make up for missed nutrients later in the day, the strategy of eating a nutrient-rich breakfast is key to the Fuel Up to Play 60 playbook. Grants awarded through the Breakfast Blitz will be used to support school breakfast programs.
The 2010 Dietary Guidelines identifies milk as the number one source of three of the four nutrients as lacking in the American diet – calcium, potassium and vitamin D. "When you consider its nutrient contributions, it is easy to see how milk – white or flavored - at breakfast can really help kids tackle their days," says Midwest Dairy Council registered dietitian, Stephanie Cundith. "Through the Breakfast Blitz, families can fuel active, successful days for everyone in the house, as well as help make this possible for more students in schools."
Other contest prizes include free milk for a year or NFL merchandise. For full contest details, and to learn more about Fuel Up to Play 60 and dairy nutrition, visit DairyMakesSense.com or MilkMustache.com.
Midwest Dairy Council®, an affiliate of National Dairy Council, is the nutrition education division of Midwest Dairy Association. The Council is dedicated to dairy nutrition research and education through the investment of more than 9,500 dairy farm families across 10 Midwestern states, and is committed to child health and wellness through our collaborative program, Fuel Up to Play 60. For more information, visit http://www.midwestdairy.com.
About Fuel Up to Play 60
Fuel Up to Play 60 is an in-school nutrition and physical activity program launched by National Dairy Council (NDC) and National Football League (NFL), with additional partnership support from U.S. Department of Agriculture (USDA). The program encourages youth to consume nutrient-rich foods (low-fat and fat-free dairy, fruits, vegetables and whole grains) and achieve at least 60 minutes of physical activity every day.
Fuel Up to Play 60 is designed to engage and empower youth to take action for their own health by implementing long-term, positive changes for themselves and their schools. Customizable and non-prescriptive program components are grounded in research with youth, including tools and resources, in-school promotional materials, a website and student challenges. Fuel Up to Play 60 is further supported by several health and nutrition organizations: Action for Healthy Kids, American Academy of Family Physicians, American Academy of Pediatrics, Academy of Nutrition and Dietetics, National Hispanic Medical Association, National Medical Association and School Nutrition Association. Visit FuelUptoPlay60.com to learn more.