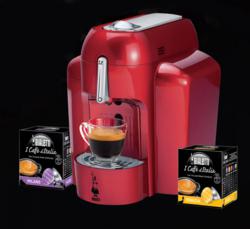 RANCHO CUCAMONGA, Calif (PRWEB) January 08, 2013
RANCHO CUCAMONGA, Calif. (January 8, 2013) – Bialetti (http://www.bialetti.com), the leading Italian stovetop coffee maker company, announced today the launch of a new electric single-serve espresso capsule system that brews authentic Italian coffee with the press of a button. The system features the Mini Express maker and Bialetti's exclusive espresso blends called I Caffè d'Italia packed in individual aluminum capsules.
Designed in Italy, the Mini Express machine features a 20 bar (290 psi), high-pressure system that makes the perfect cup of Italian espresso in seconds. Its start-and-stop dispensing makes it simple to brew you espresso exactly how you like it by controlling the volume in every cup. Loading and expelling the capsules is easily done with one convenient single motion.
"Nearly 80 years ago, Bialetti transformed the way Italians enjoy espresso at home with the creation of the Moka," said Jason Vaske, Sr. Product Manager, Bradshaw International. "With the new single-serve line, Bialetti is once again transforming the way we enjoy Italian coffee at home. However, this time Bialetti has combined today's technology with their years of expertise to make the perfect shot—everything from the flavor to the temperature to the crema makes it really the only single-serve espresso system that delivers real, authentic Italian espresso."
Exclusively for use with the Mini Express is Bialetti's I Caffè d'Italia true Italian espresso capsules, which delivers authentic Italian blends with seven grams per shot, which is an advantage to this superior brew. More than a beverage, coffee is an experience, and Bialetti understands Italians' love affair with coffee. With different blends for different tastes, everyone can find a flavor that satisfies, including:

"Milano" made from a 100% Arabica blend. The result is a light roast with a smooth, light body featuring a fragrant & fruity flavor.
"Venezia" incorporates raw beans and lightly roasted Arabica blends to create a light-bodied, delicate espresso with vanilla accents.
"Roma" is an aromatic dark roast with a rich, bold taste. The complex flavor offers an elegant note of dried fruit and embodies the true Roman preference for a strong espresso.
"Napoli" is made from African blends dark roasted and finely ground to create a hearty espresso with a strong flavor profile and a sharp cacao finish.
"Deca" is a decaffeinated medium roast made from a perfect balance of Arabica and Robusta blends to produce a velvety, enveloping texture.
Starting with premium beans sourced from around the world, each blend is slow-roasted in the traditional Italian way to bring out its own distinctive flavor profile that reflects each region in Italy's unique traditions and techniques for enjoying the espresso ritual. After the panel of tasting experts ensures that each batch meets exacting standards, Bialetti grinds, packs and seals each blend in 7-gram aluminum capsules that ensure the ultimate in freshness for up to two years.
Since the debut of the Moka Express in 1933, Bialetti has grown to be the world's most recognized Italian coffee company and has manufactured more than 200 million coffee makers to date. The single serve capsule system rounds out Bialetti's collection of coffee makers, including the Moka; Musa and Venus (stainless espresso pots); Brikka; French Press and electric maker, the Easy Café.
The Bialetti Mini Express is available in black or red for an MSRP of $199.99 at http://www.bialettishop.com. Each machine comes with 10 I Caffe d'Italia espresso capsules to sample. I Caffe d'Italia espresso capsules are also available at http://www.bialettishop.com in packs of 16 for an MSRP of $11.99.
For more information about Bialetti and its products, please visit http://www.bialetti.com or find us on Facebook at http://www.facebook.com/bialettiusa.
About Bialetti:
Bialetti is an Italian brand of stove-top coffee makers and cookware products that's bringing a unique combination of current yet accessible Italian design and quality at every price point. Headquarted in Coccaglio, Italy, Bialetti puts a face on the modern Italian's unique approach to life, with a passion for all things good – style & design, food, friends, family and relaxation. Founded in 1933, Bialetti first came to market in Europe as the creator of the "Moka Express." Today, the company offers an Italian-inspired line of cookware, kitchen tools and gadgets, as well as its wide-range of stove-top coffee makers.
Bradshaw International, based in Rancho Cucamonga, Calif., is a leading marketer of kitchenware products and is the distributor for Bialetti USA.