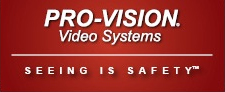 80% of all small businesses will fail. Of the ones that remain, 80% of those will fail within the next five years.
Byron Center, Michigan (PRWEB) January 10, 2013
In the introduction to Michael Gerber's book The E-Myth Revisited, the author states that within the first five years, 80% of all small businesses will fail. Of the ones that remain, 80% of those will fail within the next five years. That means that almost 96% of all small businesses will fail within the first 10 years. In other words, only 1 out of 25 businesses still exist after a decade of operation.
PRO-VISION was started in a basement by Steve and Liz Peacock in 2003, while the country was in the midst of a major recession. PRO-VISION has thrived throughout their first ten years in the mobile video market with constant increases in sales, profits, and employees despite three of the worst years the U.S. economy has endured in decades.
The 2013 anniversary marks another major accomplishment for the company, which builds video surveillance systems for school and transit buses, in-car video systems for law enforcement vehicles, commercial vehicle video surveillance systems, as well as back-up camera systems. For both 2011 and 2012 PRO-VISION was listed by Inc. Magazine as the fastest-growing privately held video system manufacturer in the country. In 2012 PRO-VISION is listed among the top 100 fastest-growing manufacturers in the nation and one of only four Michigan manufacturers who qualified to make the list.
"While many companies struggle to survive through the tough economic conditions, we are poised to increase sales 50 to 100 percent in the next year alone," says CEO Steve Peacock. The future looks bright for the company as PRO-VISION continues to deliver the most reliable, simple and affordable™ products and service in the industry.
About PRO-VISION – In 2003, PRO-VISION was incorporated and started by supplying back-up camera systems. 2005 marked their entry into the School Bus market. By 2009, PRO-VISION had entered the Commercial Recording System market, released 4 Camera School Bus Systems, and allowed for Live Video Viewing and Video File Transfer. By 2011, the company had expanded into a 240% larger facility and entered the law enforcement recording system market. The company has expanded to the international market selling systems into countries such as South Africa, Great Britain, Australia, Mexico, and Brazil, to name a few. PRO-VISION is ranked in the top 100 manufacturing firms on the Inc. 5000 list of fastest-growing private companies in America for 2011 and 2012.