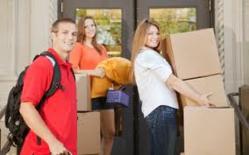 Movers.net allows customers to request a moving estimate.
(PRWEB) April 12, 2013
Amy was given a pink slip with twenty four hours notice. Fortunately, she had a new job lined up for her in another state. As she was chalking up her move, she realized that most companies were taking days or weeks to respond to moving estimate requests. In response to the dilemma of customers like Amy, Randy Rodriguez, founder and CEO of Movers.net gave an agenda to his team: "Build a system that generates moving estimates within a few hours."
After several months of effort, his team unveiled a robust system that was capable of generating quotes faster. He designed the concept from this eighteenth floor office and dreams that his innovation would serve as the "next benchmark" for an industry that is slow to adapt to customer preferences.
This morning, the company launched its newly-revised platform and issued the following press statement:
"When customers request a moving estimate, they are looking for a response within hours, not days. They are looking for a professional organization that would value the sanctity of trust entrusted to them and respond to each query within a short period of time. Endless delays are inexcusable when all members of the family are devising their share of the strategy. We released the new platform to ensure that each client receives an estimate within a few hours. Furthermore, the prices must be affordable, not exorbitant," says Rodriguez who is a fervent advocate of super-fast moving estimates.
We take into account nearly eighteen variables before generating a moving estimate. What's more? Multiple companies work with the same customer to provide a targeted estimate so that the customer ends up saving lot of money on the move. We have developed sophisticated moving company directories, search algorithms, powerful databases, and a strong support team. Altogether, our infrastructure works seamlessly to help clients obtain the best moving estimates in the market. On an average a customer can expect to save up to 50% through our service and receive a response within just a few hours."
Movers.net has been in existence for over fifteen years. During this time, the company has worked with customers across the country to develop extremely customized moving packages. From coast-to-coast moves to inter-continental migrations, Movers.net has been at the forefront of developing and advocating highly tailored packages to suit the client's individual preferences and needs.
John, a recent customer at Movers.net, was surprised beyond comprehension when he received a moving estimate that included all the parameters he had specified on the application. What's better the price was a double-digit reduction from what he had received at other services and the response came within exactly three hours. "I couldn't believe what I was receiving. Nearly six companies worked closely with me to develop a customized moving estimate package. I had more choices than I could imagine and the process was completed within twenty four hours. There's not much you can get free these days, but the package prepared through this site was priceless."
Movers.net allows customers to request a moving estimate, compare proposals, negotiate prices, and track every step of the move. The company has helped tens of thousands of customers relocate and migrate to their destinations.
For more information and to request a moving quote, visit http://www.movers.net/moving-estimates/.