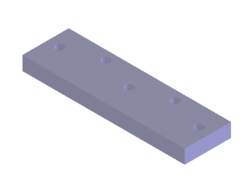 As the push for standard components continues, we want to make sure that SelfLube continues to stay ahead of the curve so that we are there for our customers when thay are ready to make the move
Coopersville, MI (PRWEB) June 27, 2013
SelfLube, the leading US manufacturer of mold and die components, has expanded its NAAMS Keeper Plates with new sizes and hole patterns.
Keeper plates are made of flamed hardened 4140 steel and are typically used to guide and control linear movement in a metal stamping die. As build shops in the industry are looking for ways to squeeze out cost, SelfLube is helping by offering an expanding line of cost effective and already machined components, which are extremely cost effective. "As the push for standard components continues, we want to make sure that SelfLube continues to stay ahead of the curve so that we are there for our customers when they are ready to make the move," explains CEO and Owner Phil Allor.
Made of flamed-hardened steel, SelfLube's NAAMS Keeper Plates are used to form the top portion of a heavy-duty gib. They can come available with or without self-lubricating graphite and with or without pre-drilled mounting holes. All configurations conform to the NAAMS standard.
Currently the additional part numbers are listed in the latest version of the product catalog, which is available in a printed version or digital link. The company currently is working on getting these part numbers up and ready to go on the website. There you will be able to download the CAD files for these in five different formats:

ACIS
IGES
Parasolid
Step
CATIA
SelfLube has been in business for 23 years and is the leading US manufacturer of mold and die components. It serves the mold, die and special machine shops throughout the US, Canada and now in Mexico. Its product line consists of over 8,000 standard part numbers, many of which are self-lubricating and include bushings, wear plates, gibs, parting line locks and many others.