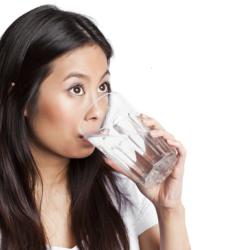 Fluoride in the water provides decay-preventive benefits for the teeth of both children and adults, which makes it the most cost-effective way for communities to improve overall oral health.
OAK BROOK, Ill. (PRWEB) April 02, 2013
Nearly 60 percent of caregivers say they are more likely to give children bottled water than tap water, potentially depriving kids of fluoride that is critical to good oral health. In addition, according to the 2013 Delta Dental Children's Oral Health Survey,1 more than twice as many caregivers say bottled water is better for children's oral health than tap water – an opinion at odds with evidence-based dentistry and more than six decades of public health experience.
"It's very important that children get fluoride on their teeth daily to prevent tooth decay," said Dr. Bill Kohn, DDS, Delta Dental's vice president for dental science and policy. "Fluoride is absorbed into the tooth enamel, making it stronger and more resistant to decay."
Fluoride actually helps to repair (remineralize) tooth surfaces that are damaged by the acid produced by certain bacteria in the mouth, which prevents cavities from continuing to form.2 Since U.S. cities began adding fluoride to water supplies more than 65 years ago, tooth decay has decreased dramatically.3 This result led the Centers for Disease Control and Prevention (CDC) to name water fluoridation "one of the 10 great public health achievements of the 20th century."4
Unfortunately, only 17 percent of parents believe that tap water is better for their children's oral health than bottled water.1 Some bottled waters do contain fluoride but usually not in the optimal amount.5 Fluoride in the water provides decay-preventive benefits for the teeth of both children and adults, which makes it the most cost-effective way for communities to improve overall oral health.
"The key to fluoride's protective benefit is by having a little fluoride on your teeth throughout the day," Dr. Kohn said. "Brushing teeth with a fluoride toothpaste at least twice a day, drinking fluoridated water and limiting frequent between-meal snacking on sugary or starchy foods will help keep most children and adults tooth decay-free."
If children don't drink fluoridated water, Delta Dental offers these ways to get more fluoride into their diet:

Fluoridated toothpastes, mouth rinses and/or professionally-applied gels or varnishes. These products can help strengthen teeth by hardening the outer enamel surface. With toothpaste and rinses children tend to swallow much of what they put in their mouth. So fluoride toothpaste use should start about age 2 and fluoride rinses probably not until about ages 6 or 7.
Dietary fluoride supplements, such as tablets, drops or lozenges, which are typically available only by prescription and are intended for children typically older than 6 months living in areas without fluoridated water in their community.
Bottled water that states on the label that it contains the right amount of fluoride.
For advice on the proper amount of fluoride specifically recommended for your child, consult with your dentist. The recommendation will depend on your child's age, how much fluoride naturally occurs in your local water and your child's risk for tooth decay.
As with other vitamins and minerals, it's important to get enough, but not too much. When young children whose teeth are still developing under their gums (up to about age 9) get too much fluoride, their teeth may erupt with faint white lines or patches called dental fluorosis. The CDC has reported an increase in dental fluorosis over the past couple of decades. Inappropriate swallowing of toothpaste and children living in fluoridated areas that also receive fluoride supplements are believed to play a major role in this increase.
Nearly 45 percent of caregivers do not know if their water supply is fluoridated.1 And although 75 percent of people in the United States with access to community water supplies enjoy the benefits of fluoride, there are still some communities that choose not to add the mineral to their water. To find out the fluoridation status of your local water supply, contact your city water department or your local water provider.
About Delta Dental Plans Association
The not-for-profit Delta Dental Plans Association (http://www.deltadental.com), based in Oak Brook, Ill., is the leading national network of independent dental service corporations. It provides dental benefits programs to more than 60 million Americans in more than 97,000 employee groups throughout the country. For more oral health news and information from Dr. Kohn and DDPA, subscribe to our blog and follow us on Twitter.
###
1 Morpace Inc. conducted the 2013 Delta Dental Children's Oral Health Survey. Interviews were conducted nationally via the Internet with 926 primary caregivers of children from birth to age 11. For results based on the total sample of national adults, the margin of error is ±3.2 percentage points at a 95 percent confidence level.
2 http://www.cdc.gov/fluoridation/benefits/background.htm, updated 2012.
3 http://www.cdc.gov/fluoridation/fact_sheets/cwf_qa.htm#2, updated 2012.
4 http://www.cdc.gov/mmwr/preview/mmwrhtml/mm4850bx.htm, 1999.
5 "Policy on Bottled Water, Home Water Treatment Systems, and Fluoride Exposure." American Dental Association. http://www.ada.org/2095.aspx Accessed 2010.