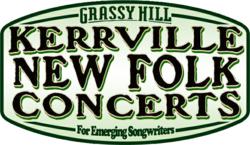 Who will add "Kerrville New Folk Winner" to their resume in 2013?
Kerrville, TX (PRWEB) February 28, 2013
Deadline to enter the 2013 Grassy Hill Kerrville New Folk Competition for emerging songwriters is March 8, 2013. Each year up to 800 songwriters from around the globe vie for the honor of adding "Kerrville New Folk Winner" to their resume. Spanning the Kerrville Folk Festival's 42 years, this songwriting competition gives up-and-coming artists a chance to see and be seen by music lovers, talent scouts, house concert presenters, and venue operators from around the country. Established at the suggestion of Peter Yarrow in 1972, these annual concerts are one of the high points of the Festival and for songwriters from all across the country.
To enter, artists submit two songs they have written in the last two years. Up to 50 music professionals from various aspects of the industry use a blind listening platform to narrow down the finalist pool for the New Folk Concerts. Thirty-two finalists are selected from the nearly 800 entries to perform in the prestigious New Folk Finalist Concerts, hosted by Steve Gillette and Festival Founder Rod Kennedy. During the concerts three judges select the final six New Folk Winners who go on to perform in the winners' concert the following weekend. This year's judges will be Nels Andrews, Aengus Finnan, and one more to be determined.
This prestigious title is a leg up to many emerging artists. Several former New Folk finalists and winners include Lucinda Williams, Lyle Lovett, Nanci Griffith, David Wilcox, John Gorka, Jimmy LaFave, Tish Hinojosa, BettySoo, Tom Prasada-Rao, Danny Schmidt, Jonathan Byrd, Tom Russell, Ray Bonneville, Steve Earle, Hal Ketchum, Robert Earl Keen and many hundreds of others.
New Folk Winners receive a cash prize, goodies from sponsors, a scholarship to the school or workshop of their choice offered during the festival, registration to the Southwest Regional Folk Alliance Conference, and a spot on the 2013 Fall New Folk Winners Tour.
The 2013 Grassy Hill Kerrville New Folk Competition for emerging songwriters will be held on the first Saturday and Sunday of the Kerrville Folk Festival (May 25th and 26th), from 1 to 4PM. The New Folk Winners Concert will be held Sunday June 2nd.
Held each year since 1972, the Kerrville Folk Festival is the longest continuously running festival of its kind in North America. This legendary songwriter's festival will once again run for 18 straight days, hosting over 100 songwriters. The festival begins Memorial Day weekend, Thursday, May 23 and runs through Sunday, June 9, 2013. Over the years it has become known internationally as a Mecca for singer songwriters of varying musical styles… a place where those just beginning to develop their skills have the opportunity to play their music alongside masters of the craft. Emerging songwriters as well as teachers are drawn to the festival's many learning opportunities, such as the 33rd Annual Songwriters School, the Ukulele Workshop, Harmonica Workshop, Capo Workshops, a Music Law Panel Discussion, and the 12th Annual Professional Development Program for Teachers.
There is something for everyone at this festival: camping, campfire jam sessions, concerts and activities for kids, "Ballad Tree" song sharing sessions, Hill Country bike rides and canoe trips on the Guadalupe, Sunday Folk Song Services, Saturday Shabbat Services and much more.
A complete festival schedule, information and tickets can be found at http://www.kerrvillefolkfestival.org or by calling the festival office at (830) 257-3600. Ticket prices range from $25 to $40 depending on the particular day. You can save by purchasing your tickets early online. Campground Access and Parking Lot fees are included in the ticket price.
The Kerrville Folk Festival is owned by the Texas Folk Music Foundation, a 501(c)3 non-profit organization that is dedicated to the support and encouragement of emerging as well as established songwriters.
If you'd like more information about this topic, or to schedule an interview with festival producer Dalis Allen, please call the Festival Production Office at (830) 257-3600 or e-mail info(at)kerrville-music(dot)com.