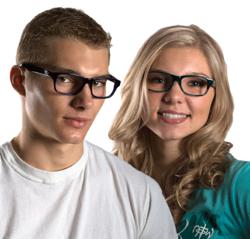 "We know our fans will love the style of these frames, and the purpose they represent," said Aurelio F. Barreto III, Founder and CEO of NOTW.
Sharon, Pennsylvania (PRWEB) February 22, 2013
Eyes of Faith Optical's release of ophthalmic style "Power" now completes the seven-style launch collection for its licensed brand Not Of This World® (NOTW), a faith-based clothing and accessories company. Featuring the edgy NOTW logo, this collection of acetate frames is perfect for teenagers and adults of all ages who love stand-out colors and trendsetting shapes. Consistent with the brand's mission to connect biblical scripture to apparel and accessories, all seven style names are inspired by the scripture printed inside each temple. "Believe," "Power," "Faith," "Strength," "Love," and "No Worries" are available in three uniquely-named color options, and "Forgiven" is available in two fashion-forward, striped fades. The collection will be distributed to retail optical and represented with point-of-purchase counter cards that spotlight the widely-recognized NOTW logo. Each frame is accompanied by a branded cleaning cloth and eco-friendly case that ships and stores flat, saving space at optical locations, and in handbags and gloveboxes.
"Eyes of Faith captures the spirit of the brand perfectly with this collection, and they share our mission to save and empower lives," said Aurelio F. Barreto III, Founder and CEO of NOTW. "For each purchase, Eyes of Faith donates a complete pair of prescription glasses or sunglasses to Sight Ministries, who delivers them in the name of Jesus Christ to people in need around the world. We know our fans will love the style of these frames, and the purpose they represent."
Not of This World Apparel, whose clothing and accessories are found in a wide variety of Christian stores and online, gets approximately five million visits to its e-commerce website (c28.com) every year. As one of the most recognized Christian logos in the world, the NOTW logo is often touted as the Christian fish for this generation, and is worn by American Idol contestants, and Christian bands such as MercyMe, Seventh Day Slumber, and TobyMac. The brand has also been seen on television shows "Ellen," "Ghost Hunters," "The Grammys," "Storage Wars," and "The Anderson Cooper Show," and has been featured in the wardrobe for films "To Save a Life" and "Soul Surfer."
"We couldn't be happier with the response to this new collection," said Jim Schneider, Eyes of Faith Co-founder and President. "The target demographic for the NOTW brand is ages 13 to 30, but this collection includes a frame to fit every face, age, and style. The edgy NOTW look, along with the rich metallic logo treatments and variety of shapes, create the perfect combination of stand-out style and classic wearability."
Eyes of Faith Optical was founded in 2008 by husband and wife team Jim and Amy Schneider to provide a faith-conscious eyewear option to the optical industry and contribute to the global mission of serving people in need. The Eyes of Faith vision is to be the leading designer of eyewear for Christ-followers, sought out for its style, quality, Wear & Share™ give-back program, and features that provide an opportunity to proudly display and share faith.
All ophthalmic frames and sunglasses incorporate the Eyes of Faith logo (which includes a subtle cross), branding from a licensed company known for its faith-based values, or cherished symbols such as the cross, stained glass, or ichthys fish. Eyes of Faith eyewear is designed to fit people of all ages, and includes collections for its own Eyes of Faith brand, plus licensed brands VeggieTales, Not of This World, and Women of Faith (launching Fall 2013).
The company makes it possible for people to "wear" their faith and "share" the gift of sight through their program Wear & Share™, which transforms a portion of each eyewear purchase into a donated pair of prescription glasses, readers, or sunglasses that reach people in need via Sight Ministries optical missions around the world. Sight Ministries partners with missionaries and indigenous pastors to conduct multiple eye clinics in communities where eye care providers and facilities are not readily available. Visitors to the clinics receive free eye exams and a pair of prescription glasses, reading glasses, or sunglasses at no cost. Through Wear & Share™, Eyes of Faith purchases provide the funds for these glasses or sunglasses, which allow individuals to see clearly who may never have had the opportunity.
To view all Eyes of Faith frames online, visit http://www.eofoptical.com/collection
For more information about Eyes of Faith Optical or the Eyes of Faith Foundation visit
http://www.eofoptical.com.
For more information about Sight Ministries, please visit sightministries.org.