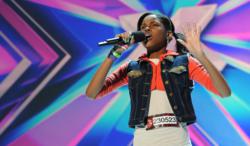 Detroit, MI (PRWEB) January 17, 2013
Diamond White a talent with One Source Talent and a contestant on season two of the Fox network's The X Factor, says she was not surprised by her fifth-place elimination because she was "prepared for the worst." A member of the One Source Talent family, White probably owes her professional attitude to her earlier ouster from the show. After being eliminated halfway through the season, the young singer was brought back to compete again the Teens category mentored by pop star Britney Spears. This time, White made it to the top five before being voted off the show.
"I wasn't surprised because I don't really expect anything," White recently told MTV News. "I hope for the best but I prepare for the worst, and I think that's pretty much how I got through the elimination."
"It's just been an amazing experience so I'm really glad that I got to do this," she said, adding that she has no regrets about her time on the show and has nothing but good memories.
Originally from Detroit, the birthplace of Motown, the 13-year-old is already a seasoned performer. Although she was singing when she was only 9 months old, the precocious White started in show business as an actor winning roles in the national touring company of The Color Purple, as well as voice parts in Transformers: Rescue Bots and the popular Disney cartoon Phineas and Ferb. She started singing publicly when she was 6 years old performing the national anthem for her school's 6th grade class graduation. Now pursuing a professional music career, White considers herself a hip-hop artist and hopes her Detroit City background will give her music an edge. Her influences include Nicki Minaj, Beyonce, and Whitney Houston.
The X Factor is an American reality show and talent competition based on the United Kingdom series of the same name. The U.K. show has produced worldwide superstars like Cher Lloyd, Leona Lewis, and the band One Direction. The second season of the American version featured judges/mentors Simon Cowell, L.A. Reid, Demi Lovato, and Spears, and was produced by FreemantleMedia North America and SYCOtv, Cowell's production company. Mario Lopez and Khloe Kardashian served as hosts. The winner of X Factor receives a $5 million recording contract with Epic Records.
Founded in 2003, One Source Talent is a company that caters to the competitive fashion and acting industries. OST utilizes advanced technology to create an interactive network bringing models, actors and clients together in an easy and cost-effective way. Operating in all U.S. major markets, including Los Angeles, New York, Washington D.C., Miami, Detroit, and Chicago, OST's goal is to change how talent and clients conduct business. To this end, OST combines modern technology - like an extensive searchable database, personal email accounts, and real-time access to nationwide auditions and castings - and traditional tools - like meet and greets, industry workshops and experienced entertainment professionals - to put the needs of talent and clients first.