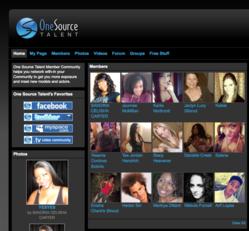 Detroit, MI (PRWEB) February 04, 2013
In its ongoing effort to help promising models and actors find success, One Source Talent takes a big step forward with the launch of the new One Source Talent Member Community social networking website. Gone are the days when a head shot and CV would catch the attention of casting agents and directors; serious artists need to keep up with technology. Models or actors looking to advance their careers and gain exposure can now visit http://www.onesourcetalent.net, register, and begin networking with other models, actors, and other entertainers. With membership growing every day, the One Source Talent Member Community plans to reach 10,000 members by April 2013.
Like most top-line social networking sites, the One Source Talent Member Community lets its members make a personal profile, upload videos and photos, and connect with its ever-growing network of models, actors, and other entertainers. Members of the site also are offered a variety of useful options to make their networking experience as enjoyable and successful as possible. Options include:
The Model and Actor Blog provides up-to-the-minute industry news, including audition announcements and casting information. OST Success Stories provides a boost of confidence as members receive updates about other members' successes. The Q & A Section provides members an opportunity to ask others in the industry questions or seek advice.
Direct Links to One Source Talent resources on Facebook, Twitter, and MySpace, as well as the OST video site, also are provided. Additional features inlcude member birthday announcements, groups, forums, and customized badges for members to post on their other social networking site pages. Plus, the site includes a "free stuff" page that features contests and other fun ways to make contact with peers.
So often, success in the entertainment business boils down to who you know. The One Source Talent Member Community is an easy and useful way for models and actors to expand the number of people they know. To benefit the most from social networking, members should visit the site regularly and engage fellow members in conversations whenever possible.
One Source Talent was created in 2003 to serve the highly competitive acting and fashion industries. OST accomplishes this by bringing actors, models, and clients together via an interactive network that uses advanced Internet technology in a cost-effective, user-friendly way. Located in all major U.S. markets, including New York, Los Angeles, Miami, Washington D.C., Chicago, Phoenix, Houston, Dallas, San Diego and Detroit, OST pursues its primary goal: to change the way clients and talent do business. The company's new venture, the One Source Talent Member Community, helps accomplish this goal by combining modern technology - like a searchable database, real-time updates for national auditions and casting calls, and personal email accounts - with traditional industry tools - like workshops, meet and greets, and highly skilled entertainment professionals - to meet the needs of clients and talent.