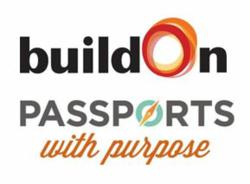 "We are excited to partner with buildOn, which has a long track record of success in building not just schools, but autonomy and local partnerships." - Mara Gorman, Passports with Purpose board member
Seattle (PRWEB) June 27, 2013
Passports with Purpose announces buildOn as the 2013 beneficiary of the annual travel blogging community fundraiser. With a goal of $115,000, Passports with Purpose (PwP) and buildOn will construct three primary schools and fund three Adult Literacy Programs in the Sikasso Region of Mali, Africa. In its sixth year, the online fundraiser will begin on November 25, 2013 at 11:59pm EST and end on December 9, 2013 at 11:59pm EST on http://www.PassportswithPurpose.org. Passports with Purpose invites all travel bloggers to join and sign up on the site.
For more than two decades buildOn has mobilized rural villages in some of the poorest countries on the planet to build more than 500 schools. The schools that will be built with funds raised by PwP will be constructed in Sikasso, the southernmost region of Mali, 200 miles south of the capital Bamako. To date, buildOn has completed nearly 200 schools in the region, with more than 24,000 children attending buildOn schools in Mali on an annual basis.
buildOn's methodology is designed to educate girls and boys in equal numbers and empower both women and men to make change in their communities, including the following strategies: each project is led by a local leadership committee; encourage enrollment of girls; and provide fundamental numeracy and literacy skills, as well as new knowledge about nutrition, family planning and income generating activities to adults.
"We are so grateful for Passports with Purpose's dedication to providing access to education for children in Mali," said Jim Ziolkowski, buildOn CEO and founder. "We at buildOn believe education - especially for women and for girls - is essential to a stable democracy. As Mali works to unite its country once more, I want to thank the travel blogging community for stepping up, and helping to ensure that the country has the tools it needs for a more stable, democratic and prosperous future."
"At Passports with Purpose, we believe that education is a fundamental human right. That means we're committed to supporting sustainable projects promoting education for all in communities in the developing world," said Mara Gorman, Passports with Purpose board member. "We are excited to partner with buildOn, which has a long track record of success in building not just schools, but autonomy and local partnerships."
During the fundraiser, participating bloggers procure a prize, write about Passports with Purpose and the prize on their blog, and promote the fundraiser in social media and among their network of contacts. Past prizes included vacation packages, electronics and gear and amazing travel experiences. The Passports with Purpose website hosts a list of all the available prizes. For each $10 donated, eligible donors will be entered to win a prize of their choice. After the fundraiser ends, a winner is randomly selected for each prize. Funds raised go to buildOn.
"We've had such a strong, positive response year-after-year from the travel blogging community that we can't wait to collaborate and make a difference with buildOn," said Michelle Duffy, co-founder and board member of Passports with Purpose. "We look forward to working with them and continuing our tradition of helping people improve their own lives by giving them the support and tools to do so, in a long-term fashion."
The announcement comes on the heels of the news that PwP was recognized by Travel + Leisure® magazine in the second annual Social Media in Travel + Tourism℠ Awards. PwP was honored to win the debut category, "Best Use of Social Media by an Independent Journalist/Blogger." The SMITTYS℠ recognize companies in the travel and tourism industry showcasing the most innovative uses of social media.
Organizations that wish to donate prizes or become sponsors can contact Passports with Purpose at info[at]passportswithpurpose[dot]com.
About Passports with Purpose
In 2008, four Seattle-based travel bloggers began a travel-inspired initiative to raise money online during a two-week period in November/December. Passports with Purpose filled the need to do long-lasting good for people in the places travelers visit by uniting an online community and leveraging the social media platforms of more than 200 travel bloggers around the world. PwP initiatives benefited Heifer International; the Passports School with American Assistance for Cambodia; a village in Tamil Nadu, India for 25 Dalit families with Land for Tillers' Freedom; two libraries in Zambia with Room to Read; and in 2012 five wells in Haiti with Water.org. For more information about Passports with Purpose visit, http://www.PassportswithPurpose.org, http://www.Facebook.com/PassportswithPurpose or http://www.Twitter.com/PassportPurpose.
About buildOn
At home or abroad, buildOn's goal is to break the cycle of poverty, illiteracy and low expectations through service and education. In the U.S., buildOn empowers urban youth to transform their neighborhoods through intensive community service and to change the world by building schools in some of the economically poorest countries in the world. Internationally, buildOn is constructing schools in Haiti, Nicaragua, Nepal, Senegal, Malawi, and Mali. Our students have contributed over 1 million hours of service in the U.S., and have helped build more than 543 schools around the world. For more information, visit http://www.buildon.org, http://www.Facebook.com/buildOn or http://www.Twitter.com/buildOnEmpowers.