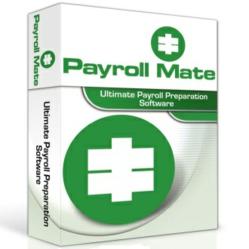 Payroll Mate is available for immediate download as a free trial from PayrollMate.com , users can purchase the software and receive it instantly.
Chicago, IL (PRWEB) January 19, 2013
Real Business Solutions (PayrollMate.com) invites payroll service providers to try the 2013 Payroll Mate payroll software, which includes new enhancements and updates for payroll processors and service bureaus. Payroll Mate is trusted by thousands of tax professionals, CPA firms and small businesses nationwide.
Payroll Mate 2013 simplifies processing of complex payroll scenarios and helps users cut the amount of time needed to create checks and pay employees. Payroll Mate makes the tasks of processing and tax compliance much more efficient and profitable, especially for providers managing a big number of clients. Payroll Mate is available for immediate download as a free trial from http://www.PayrollMate.com/, users can purchase the software and receive it instantly.
Payroll Mate 2013 was one of the very first payroll applications to implement the new withholding tables when they were released by the IRS on the eve of 2013 New Year. Payroll Mate was also one of the first applications to be updated when the IRS reissued the percentage method withholding tables after the passage of the tax bill.
Payroll Mate may be installed on a standalone computer or in a network environment. This allows staff members to process payroll for multiple clients at the same time. Once set up, the payroll software is designed for quick data entry and checks processing. The basic version of Payroll Mate supports up to ten companies with 75 employees per company and the professional version supports up to 100 companies with 1000 employees each.
Payroll Mate software highlights:

Supports customizable payroll income, tax and deductions categories.
Automatically calculates federal and state payroll tax withholding.
Supports different types of pay periods including weekly, biweekly, semimonthly and monthly.
Supports payroll vacation accrual and sick pay accrual.
Exports Payroll checks to Quicken and accounting software like Microsoft Office accounting.
Can be used as QuickBooks payroll alternative with the ability to export payroll data to QuickBooks software.
Supports the following payroll forms: 941, 940, 944, W-2, W-3, California DE-9, California DE-9C, Texas C-3 , Texas C-4, New York NYS-45, Illinois 941 and Illinois UI-3/40.
Supports income per mile and per piece.
Prints IRS 1099-MISC and 1096 forms.
Exports payroll reports to Excel, CSV and PDF.
Prints on Laser and Inkjet checks.
Prints on preprinted scannable W2 forms and W3 forms.
Generates comprehensive reports including payroll journal, tax liability and deposit requirement.
Generates Direct Deposit Files.
Prints MICR checks on blank check stock.
Give the payroll software from PayrollMate.com a test drive and see for yourself how easy managing payroll can be. Visit Payroll Mate software page.