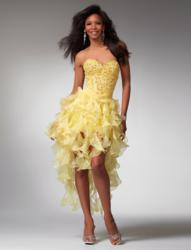 I think that the girls will be pleasantly surprised with all the new options they will have for prom 2013.
(PRWEB) October 30, 2012
Online prom dress superstore, Promgirl.net has announced that they will be stocking more plus-size dresses than ever for the 2013 prom season after noticing a steady rise in demand. The last few years have seen the fashion world as a whole begin to give more attention to designs for plus-sized women and girls, and the prom industry is no different. With the growing popularity of events like New York's Plus-Size Fashion Week and with the proliferation of lines and labels that cater to larger body types, women and girls who were once all but ignored by high fashion are now finding themselves welcome in the world of haute couture.
The one drawback to this increasingly popular demand for plus-size fashion, according to information gathered by Promgirl.net's market research team, is that for many girls here in the United States accessibility to these wonderful designs is still very limited. Larger department stores for the most part will not carry plus-sized designer special occasion gowns because they only appeal to a very select market; whereas designer boutiques that cater to the special occasion buyer will offer only a very limited selection of plus-sized gowns, due to the limited size of their inventories.
"Online retailers like Promgirl.net are in the perfect position to fill this need," according to Sunny Adrian, President of Promgirl, "Unlike traditional boutiques we can stock large amounts of inventory and give girls all across the country access to a wide variety of plus-size designs. Every girl should have plenty of beautiful options when looking for a prom dress, and we are here to provide them to her."
This increased commitment to plus-sized fashion comes in response to customer feedback Promgirl.net had been receiving for the last few prom seasons. Girls looking for plus size prom dresses, particularly size 14 and larger, were unhappy with the limited selection found in most stores and websites. "We always try to listen, and respond to the needs of our customers," said Mr. Adrian "and this problem in particular was one that appeared again and again, so we re-examined our stocking practices and I think that the girls will be pleasantly surprised with all the new options they will have for prom 2013."
While Promgirl.net will not be picking up any designers who specialize in plus-size fashion for the 2013 season, it is not something they are willing to rule out either. At this time Mr. Adrian indicated that Promgirl.net would instead focus on stocking plus-size designs from their marquee labels such as Tony Bowls, Jovani, Clarisse, Alyce Designs, Scala and Terani Couture.
Promgirl.net is an online retailer of prom dresses and gowns, formal and cocktail dresses for homecoming and special occasions. In addition to promoting new prom designers over the Internet, Promgirl.net gives advice for prom and homecoming using a variety of blogs and online media tools.