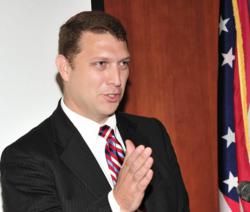 Set up an account, create a 'pack' and see how Powsumer is changing the face of shopping by putting the power in the hands of consumers.
- Andrew Maas, co-founder
Akron, Ohio (PRWEB) May 01, 2013
Powsumer, a new consumer-driven pricing company founded by Corbin Bernsen, announced the launch of its beta site at http://akronbeta.powsumer.com. Visitors can set up accounts and learn about the ways Powsumer can get them the best deals, using powerful social tools and group-buying information.
"Now that Powsumer has entered beta, we're looking forward to feedback from users," says Andrew Mass, co-founder. "Set up an account, create a 'pack' and see how Powsumer is changing the face of shopping by putting the power in the hands of consumers."
Powsumer brings together search engine functionality with big data analysis of trending prices, inventories, and shopping habits to find the best price on items consumers want to buy. The price is driven down through the patent-pending methods of Powsumer for bringing together multiple purchasers to form a purchasing pack. The Akron Beta Powsumer website is the initial proof-of-concept needed to fully validate the technology.
"We encourage everyone to engage in using the Powsumer Beta Site and provide feedback to help us make the site better for the user," says Corbin Bernsen, co-founder. "We look forward to seeing you on the site."
About Powsumer
Founded in 2011, Powsumer is a consumer driven pricing site that is enticing to educated consumers everywhere. Powsumer brings together consumers into purchasing groups ("packs") with social and web networks who demand the lowest price for things they want. Powsumer provides distributors, retailers, and manufacturers a conduit to sell at profitable margins.