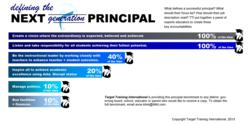 It is imperative we move away from biased opinions of the past to create a new, more effective job description for principals
Scottsdale, AZ (PRWEB) May 28, 2013
Education has become a very divisive issue in America. Yet it remains one of the most vital matters to the future of the country – economically, socially, and internationally. In the wake of various troubling reports about education, and following years of quantitative and qualitative research, Target Training International, Ltd. (TTI) has now released a new set of research that could aid in defining and creating more successful school environments.
Chief among these is the creation of a job benchmark of a high school principal – defining 37 separate job-related areas, including 23 competencies needed from the new-generation principal. It also contains six motivations unique to this position, as well as eight behavioral traits demanded of an effective school leader.
The benchmark, first released in a May 13 Education Week commentary by Dr. Ron J. Bonnstetter and Bill J. Bonnstetter, is provided in detail on Mindful Matters, http://www.ttiresearch.com/blog. TTI has agreed to provide the benchmark to anyone interested in obtaining it.
"It is imperative we move away from biased opinions of the past to create a new, more effective job description for principals in order to move forward and rehabilitate our ailing educational system," said Dr. Bonnstetter, co-leader of the study and vice president of research and development for TTI and its Center for Applied Cognitive Research. "As a company, TTI is dedicated to helping support the future of education by generating research that is easily applied and widely available to all."
The benchmark was created with a group of nationally recognized educators, including leaders who had been principals, teachers, administrators and who had worked at the national and international level. A business leader was also involved in the process. The benchmark was then compared to TTI's database of job benchmarks. The comparison showed K-16 educators typically emphasize a different set of competencies. The new benchmark provided a novel job description that may translate into greater job effectiveness.
"Business has a huge interest in the success of the educational system in America," said Bill J. Bonnstetter, co-leader of the study and chairman of TTI. "So why not use some of the most effective business strategies to help inform and enhance the efficiency of schools, and in this case, school leadership? It is incumbent upon us to provide what we can to move the country toward stronger schools. That's why we are investing in this research and providing it to the public."
"After 40 years in education, I know this research will ruffle some feathers, but the findings speak for themselves. They emphasize an ability to create a vision, to work collaboratively with teachers, to inspire students, staff and the greater community," Dr. Bonnstetter said. "While some are quick to disregard, our four decades of research and experience establishing the validity of our human behavioral assessments make these findings worth considering."
To receive a copy of the benchmark, email anne.klink(at)ttiltd(dot)com
About Target Training International, Ltd.
Target Training International, Ltd. has been pioneering research into superior performance since 1984, providing cutting edge insights into human behavior, communication and workplace attitudes and performance. TTI is the world's leading developer of research-based, validated assessment and coaching tools that enable Fortune 500 companies to effectively meet their human resources needs. Its related company, TTI Success Insights, puts assessments and reports to work in more than 90 countries and in 40 languages. TTI develops thought leadership in the realms of brain science, entrepreneurism, education and human interaction. For more information, go to http://www.ttiresearch.com, connect @ttiresearch or call 800-869-6900.