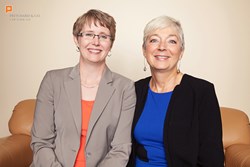 As family lawyers, our role is to help separating and divorcing parents focus on their highest interests, especially their children
Medicine Hat, Alberta, Canada (PRWEB) October 08, 2013
While many Canadians believe the family law system requires sweeping reform, Medicine Hat Pritchard & Co. family law lawyers Janis Pritchard and Catherine Regier have taken steps to bring necessary change to Alberta. A Medicine Hat Family Service pilot program, designed to teach parents in high conflict divorce the necessary skills to ensure the child's best interests are addressed and harmful effects are prevented, is taking national notice and producing measurable results.
"As family lawyers, our role is to help separating and divorcing parents focus on their highest interests, especially their children," notes Regier. "We encourage them to participate actively in creating solutions, rather than giving control over to the courts." However, all too often, parents don't have the necessary skills to avoid the cycles of ongoing parent assessment and additional court applications. "Our goal is to help our clients resolve disputes respectfully, which is challenging in an adversarial court system," adds Pritchard.
Advocacy Not Adversity Is in the Family's Best Interest
Pritchard, one of the first Alberta lawyers to embrace collaborative divorce, saw direct benefits of the interdisciplinary team approach model and keeping families out of court. With a firm commitment to advocate for the best interests of families, in 2007 Pritchard and Regier set out to make positive change forming a working group that included lawyers, judges, and social service providers.
Following more than five years of planning the New Ways for Families (NWFF) skills-based program was brought to Medicine Hat in 2012. The program helps parents improve communication and cooperation in addressing custody and access disputes in order to keep the cases out of the court system where possible. The program is funded by the Government of Alberta, Department of Justice and Solicitor General which Pritchard, Regier and Medicine Hat Family Service worked together to secure.
NWFF focuses on three fundamental problem solving skills for parents: flexible thinking, managed emotions and moderate behaviors. The program encourages system coordination among justice, legal and social service practitioners, and reduces use of justice and court systems for resolving custody issues.
A Social Return on Investment (SROI) Case Study confirms that program participants improved their parenting cooperation skills in areas such as willingness to accommodate changes in visiting arrangements, to act as a resource to the former spouse in raising the children, and improved day to day decision making about the children. Outcomes for children included less acting out behaviors; less symptoms of stress such as headaches, stomachaches, difficult sleeping; improved school performance and more interest in seeing the non-custodial parent.
Furthermore, in its Family Justice Reform report released in May 2013, the Action Committee on Access to Justice in Civil and Family Matters, led by Canada Supreme Court Justice Thomas Cromwell, group credits the Medicine Hat NWFF program with de-escalating and resolving conflict in high conflict cases in Alberta.
Many people think the path to justice is court, and it is the worst place, adds Pritchard,whose family law practice is dedicated to collaborative law, negotiation and mediation. She keeps all of her cases private and out of court, adding that with the right skills, the majority of cases can avoid an overwhelmed family court system that often can't support the best interests of families.
About Pritchard & Co
For more than 110 years Pritchard and Co has helped clients navigate the turning points in life. The firm provides family law, business,estate administration and estate planning legal services. Pritchard and Co is located at 204 430 - 6th Avenue S.E. in Medicine Hat. Further information can be found at http://pritchardandcompany.ca.