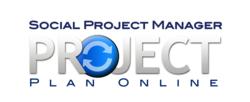 But, unbeknownst to many, social media and video can also be used just like the best, paid project management tools in the market.
New York (PRWEB) April 04, 2013
There is no doubt about the influence on and value of social media and communication to businesses, small or large. Businesses recognize that in order to become relevant in marketplaces that emphasize online visibility, they should invest in social media. Today, allocation for social media, video and online marketing continues to increase as businesses use these platform and channels to promote their products or services and engage their customers.
But, unbeknownst to many, social media and video can also be used just like the best, paid project management tools in the market. With Project Plan Online's first new product,Social Project Manager, businesses can learn how to use free social media to address issues like the difficulty in communicating across different time zones, cultures and languages as well as ensuring a standardized collaboration tool.
Also, to address time poor executives lifestyles, information overload and decreasing attention spans, using video as a tool for project reporting, presentations and training is now possible because the technology is readily available, easily learnt and provides more convenience, context and richness than written reports and meetings, we nearly all have a HD video camera in our pocket after all!
Through a series of 30 videos, Master Project Director James Clements delves deep into free social media tools and how businesses can use them as effective Project Management and Online Collaboration Tools and also how to elevate the richness of Project Reporting to adapt better to the rapidly changing information consumption habits of individuals and teams.
In the first new product, Social Project Manager, Clements pinpoints which free tools work best and which do not, including common social media tools for collaboration and communication, video conference, online storage, real time video collaboration and sharing and the best free and paid apps.
He gives a rundown on how to set up these tools with a particular focus on security and privacy. He then proceeds to outline Six Project Collaboration Frameworks, which businesses can tailor according to their needs and specific situations. These include single and multi-project setups, programs, portfolios, PMO's and Stakeholder communication tools.
In the second product,Video Project Manager, Clements shows how technology has advanced to the point where simple screen recording software, DSLR cameras and even smartphones can easily be used by project professionals to create rich and effective videos. With the diminishing attention spans of busy executives, Clements shows viewers how to use editing software to develop short-form videos for project updates and briefings, customer testimonials, or even to spice up and effectively complement boring written reports.
James Clements has extensive experience in managing bids, proposals and projects in the USA, Australia, Middle East, Asia and Europe. From this unique standpoint, Clements recognizes the difficulties of multi-location team building and communication strategies across time zones, cultures and languages and standardizing collaboration tools.