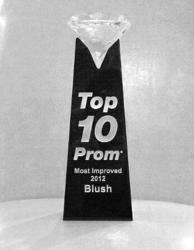 We were so proud to receive this award from Top 10 Prom, and their retail stores
New York, NY (PRWEB) September 11, 2012
'Most Improved Prom Dresses' is what to expect from Blush Prom this year, according to Top 10 Prom and 100's of prom dress stores from across the world.
Top 10 Prom provides awards to the 10 prom dress designers, based on feed back from their retail stores. Of the 10 designers in the Top 10 Prom book for 2012, Blush Prom was awarded the 'Most Improved' from the previous year.
"We were so proud to receive this award from Top 10 Prom, and their retail stores," Mazzoni told us, from Blush Prom. "Awards like this really speak for themselves and the hard work all of us Blush Prom have done over the past year."
Blush Prom not only designs prom dresses, but this year they have a line of dresses for homecoming 2012.
"Our 2012 Homecoming Dresses are designed with the same care as our prom dresses. We spend months creating concepts on paper before ever creating an actual dress," Simpson said, designer for Blush Prom. "We are looking forward to having our homecoming dresses in stores this fall."
Blush Prom's 2013 Prom Dresses are scheduled to debut on their website sometime in mid September.
To see all of their prom dresses, visit them website at: http://www.blushprom.com/blush-prom-dresses
About Blush Prom by Alexia
For over 30 years, Alexia Designs has been creating beautiful dresses for all occasions. Blush Prom, the high fashion division of Alexia Designs, offers dresses for proms, pageants, homecoming formals and other social occasions. You can view all of their dresses at http://www.blushprom.com