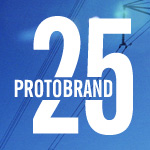 The most powerful brands are elevated by the deep emotional relationships they have with people.
Boston, MA (PRWEB) June 11, 2013
Based on the expert opinion of marketing professionals from around the country, Protobrand 25 is a study of New England's most powerful brands. In contrast to the last study wave in 2011, we have witnessed some significant shifts in 2013 with GE claiming the top spot, Dunkin' Donuts coming in a close second, and ESPN being edged out to a strong third place in the rankings. Brands were rated across eight dimensions including cultural power, brand momentum, distinctiveness, uniqueness, quality, loyalty, admiration, and resume enhancement. "The most powerful brands are elevated by the deep emotional relationships they have with people. The ranking shows how the power of a brand is not merely a function of size or location, but rather an indication of a deeper underlying metaphorical relationship and symbolic meaning," says Anders Bengtsson, CEO of Protobrand.
In regards to the movers and shakers, we see Zipcar appearing on the Protobrand 25 for the first time. The brand is benefitting from a cultural shift towards car sharing and smart marketing which has created increased salience. Another newcomer is Converse, a brand which has increased momentum significantly and rekindled its cult status as an essential ingredient of "cool" among Millennials. Other Protobrand 25 newcomers include Marshalls and its parent company T.J.Maxx. Liberty Mutual has also secured a spot on the Protobrand 25. It would seem that the power of its emotional brand story centered around the idea of "responsibility" and a commitment to forging human connections has paid dividends. Of all the brands ranked, L.L.Bean and Samuel Adams are the two brands which best personify the spirit of New England. Of note are major brands that have fallen off the Protobrand 25, including Timberland, Stanley, and Welch's.
"The Protobrand 25 represents a measure of brand currency. Brands on the rise have found a way to increase currency through forging emotional connections; whereas brands on the wane need to find a way to recapture their emotional mojo," says Stephen Hahn-Griffiths, Chief Strategist at Protobrand.
The 25 most powerful New England brands for 2013 are:
1 GE
2 Dunkin' Donuts
3 ESPN
4 Subway
5 Ben & Jerry's
6 Gillette
7 L.L.Bean
8 Samuel Adams
9 Fidelity Investments
10 Bose
11 Staples
12 Duracell
13 CVS/pharmacy
14 Ocean Spray
15 Priceline.com
16 Old Spice
17 Monster.com
18 T.J.Maxx
19 Converse
20 Reebok
21 Marshalls
22 Liberty Mutual
23 Zipcar
24 New Balance
=25 Orvis
=25 Tom's of Maine
About Protobrand Sciences, Inc.
Protobrand is an independent research and branding consultancy that offers a unique perspective on emotional insight mining. Through Meta4 Insight – our online application for metaphor elicitation – we mine the human psyche and uncover the rich, hidden motivations behind people's behavior. With such insight as a foundation, we craft strategic and creative solutions that result in emotionally resonant brand relationships. Clients include major consumer brands such as Lee, Disney, Marriott, Bank of America, GAP, Toyota, and Wrigley.