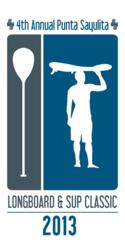 With Sayulita widely regarded as one of Mexico's top surfing and vacation destinations, now combined with the growth of SUP, Sayulita and the "Riviera Nayarit" have become an evermore popular second home and vacation destination
SAYULITA, MEXICO (PRWEB) January 10, 2013
Now in its 4th year, the Punta Sayulita Classic presented by The Riviera Nayarit Tourism Board is regarded as one of the premier international surfing and stand-up paddle (SUP) events in North America attracting thousands of spectators and one of the deepest international fields of professional athletes and amateurs competing in longboard and stand-up paddle ("SUP") surfing contests as well as in an array of exciting offshore SUP distance races. "With Sayulita widely regarded as one of Mexico's top surfing and vacation destinations, now combined with the growth of SUP, Sayulita and the surrounding coastline known as the "Riviera Nayarit" have become an evermore popular second home and vacation destination because of being blessed with miles of pristine coastline offering excellent conditions for an array of outdoor pursuits," commented Kevin Roberts, a Principal with event host Punta Sayulita and Event Director of the Punta Sayulita Classic.
Unique to the Punta Sayulita Classic event is that unlike other international competitions, competitors are not competing for prize money, which is typically the primary draw for international events. The primary consideration is raising awareness for environmental protection and respect for the world's oceans and wildlife as well as to raise funds for the Reef Check Foundation's area Eco-Diver Program and the Punta Sayulita Foundation's children's educational and sports development programs. Founded and organized by the Punta Sayulita resort community, the event is made possible by the generous support of the event's sponsors, professional athletes, the Sayulita community and the event volunteers.
This year's field for the 4th Annual Punta Sayulita Classic is filled with some of the biggest names in the sport of longboard and SUP surfing and racing including surfing legend Gerry Lopez, defending SUP Surf Champion Zane Schweitzer, defending SUP Men's Elite and Distance Champion Connor Baxter, 2-time defending women's SUP elite race champion Candice Appleby, defending Women's SUP Distance Champion Jenny Kalmbach, 2-time defending men's longboard champion Darren Eudaly, women's defending longboard champion Karina Ozunka as well as past champions, Chuck Patterson, Slater Trout, Sean Poynter, Mary Osborne, Patricio Gonzalez and many more top pros including 2 time SUP surfing world champion, Kai Lenny, Roxy team riders Vanina Walsh & Jen Smith, Anthony Vella, Mo Freitas and Sayulita locals Ryan Helm and Mexican SUP National Champion Fernando Stalla. According to Event Director Kevin Roberts, "by far, this will be the deepest and most talented field at the Punta Sayulita Classic. Every year the field grows with talent and we are so appreciative of the pros carving out time from their competition schedules to come compete in the event and help raise awareness and money for the Reef Check and Punta Sayulita Foundations."
In addition to the surfing and SUP race competitions held over the weekend, on Friday, March 8th, the festivities kick-off with a surfing clinic for special needs and underprivileged children under the supervision of renowned Malibu, CA longboard surfer, Jimmy Gamboa, and members of his TheraSURF organization along with other participating professionals and instructors from local Sayulita surf schools. Moreover, in conjunction with honorary ambassador, James Pribram of the ECO-Warrior Foundation and members from Project Save Our Surf, a community-wide beach cleanup event is scheduled with an interactive-educational program following thereafter with a children's interactive Reef Day art camp with local artist Treva Dea of Sayulita Art Camps. Participating surfers will also be on-hand for a "meet the pros" autograph session as well as members from the Olukai footwear company, the official giveback partner of the 4th Annual Punta Sayulita Classic, will be participating on Friday and throughout the weekend festivities with prizes and donations for children through its Ohana Giveback Program.
"We are excited to announce the return of international reggae recording artist, Mishka, to perform the free beachfront Punta Sayulita Classic benefit concert on Saturday night, March 9, which attracted thousands last time Mishka and his band performed. Mishka's reggae roots music has great sound and soul and will be a fantastic addition to the weekend festivities for all to enjoy the 'aloha spirit' of the Punta Sayulita Classic. Moreover, the fact that Mishka, having grown up a waterman himself and having an appreciation for the ocean and the environment are attributes that make him an ideal fit for the Punta Sayulita Classic and we appreciate Mishka's generous support of the Punta Sayulita Classic," added Kevin Roberts of Punta Sayulita.
On his return to Sayulita Mishka commented "I am inspired to return to Sayulita for the 4th Annual Punta Sayulita Classic to feel the good vibes and play some music in one of my favorite places. The last time we played there in 2011 stands out in my memory; wonderful people in a beautiful place who know how to have a good time. This year we will be playing a whole lot of new tunes as I am releasing a new mini album on Jimmy Buffett's Mailboat Records, so this will be a release party for the new music. I'm stoked!! Hope to see you there!"
The Punta Sayulita Classic is pleased to welcome back the generous of support Alaska Airlines as the official airlines of the 4th Annual Punta Sayulita Classic. Alaska Airlines is offering a special airfare discount code ECMU117 to anyone travelling to Sayulita to compete or to simply take part in the weekend festivities. For years Alaska Airlines has been one of the most active airlines flying to Mexico offering nonstop flights to Puerto Vallarta from numerous west coast cities including Los Angeles, Portland, San Diego, San Francisco and Seattle. Alaska Airlines is also expanding their surfboard length dimensions so competitors can travel with a SUP stock race board up to 12'6" in length. Another flight option for travelling to Sayulita is on board XOJET, one of the leading private aviation companies and sponsor of the 4th Annual Punta Sayulita Classic. XOJET is offering special private charter packages on any of their super-mid-size or mid-size jets.
Media inquiries and general event information regarding the 4th Annual Punta Sayulita Classic can be obtained by visiting puntasayulitasurfclassic.com or by contacting Kevin Roberts or Jose Luis Caselin at U.S. Toll Free (866) 947-6017 or +52 (329) 291-3957. For more information about the Punta Sayulita resort community visit puntasayulita.com. For information regarding the Reef Check Foundation visit reefcheck.org.
THE 4th ANNUAL PUNTA SAYULITA CLASSIC SPONSORS
Event Organizer: Punta Sayulita
Presenting Sponsor: The Riviera Nayarit Tourism Board]
Sponsored by:
Platinum Level Sponsor:
Corona
Gold Level Sponsors:
Jack Daniels
New Mix
ROXY
Silver Level Sponsors:
Don Pedro's Restaurant
St. Regis Resort Punta Mita
Hotel Kupuri
Bronze Level Sponsors:
Body Glove
Alaska Airlines
Olukai
Starboard
Quickblade Paddles
Palmasola
La Mision de Mita
Industry Level Sponsors:
Toes on the Nose
Victory Wetsuits
XOJET
Stand-Up Paddle Mexico
de Reus Architects
Stone Contractors
Villa Amor
Sayulita Central Hotel
Ruben's Deli
Vallarta Lifestyles
Skiver Advertising
Grupo Chalita
ABOUT PUNTA SAYULITA
Punta Sayulita is a private oceanfront club and residential community that rests on an extraordinary 33-acre private peninsula adjacent to the quaint seaside village of Sayulita located approximately 40 minutes north of Puerto Vallarta. Punta Sayulita has been carefully designed to be an intimate, low-density community that will embrace only 62 detached homes whereby residents will have access to a full-service private Beach & Surf Club. The tropical design for the beach club and the custom homes at Punta Sayulita is by the boutique architecture firm of de Reus Architects of Hawaii. The developer of Punta Sayulita is Contact Development Company, LLC (CDC) of Sausalito, CA. See puntasayulita.com.
ABOUT REEF CHECK & PUNTA SAYULITA FOUNDATIONS
Reef Check
The Reef Check Foundation is an international non-profit organization dedicated to conservation of two ecosystems: tropical coral reefs and California rocky reefs. With headquarters in Pacific Palisades, California and volunteer teams in more than 90 countries, Reef Check works to create partnerships among community volunteers, government agencies, businesses, universities and other non-profits. Reef Check goals are to: educate the public about the value of reef ecosystems and the current crisis affecting marine life; to create a global network of volunteer teams trained in Reef Check's scientific methods who regularly monitor and report on reef health; to facilitate collaboration that produces ecologically sound and economically sustainable solutions; and to stimulate local community action to protect remaining pristine reefs and rehabilitate damaged reefs worldwide.
Punta Sayulita Foundation
The Punta Sayulita Foundation ("PSF") is a non-profit organization focused on supporting various community initiatives for the community of Sayulita and the Bay of Banderas area. Initiatives include educational programs for environmental awareness and protection, community organized beach cleanup events as well as supporting programs for underprivileged children to allow them the opportunity to enjoy various water sports such as surfing, stand-up paddle boarding, kayaking, fishing, etc., that they otherwise would not have the opportunity to pursue.
The proceeds raised from the 4th Annual Punta Sayulita will go to directly fund Reef Check's Adopt the Reef Program for the Sayulita and Bay of Banderas areas as well as to support the PSF's programs.