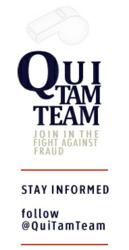 Philadelphia, PA (PRWEB) May 02, 2013
Qui Tam Team http://www.quitamteam.com; e-mail: QuiTamTeam(at)gmail(dot)com
As highlighted in a piece by Jonathan Stempel of The Washington Post on April 26, 2013, following two federal lawsuits, including U.S. Attorney Preet Bahara's complaint (Case Number 11 Civ.0071 (PGG) in the Southern District of New York alleging multimillion dollar kickbacks from 2002 through 2011, inducing doctors to prescribe Novartis drugs that were paid for by federal health care programs, the giant pharmaceutical manufacturer could face possible exclusion from future Medicare and Medicaid reimbursements in addition to massive fines.
In September, 2010, Novartis signed a Corporate Integrity Agreement ("CIA") with the Office of the Inspector General of the Department of Health and Human Services and paid approximately $422 million in criminal and civil fines and penalties to resolve claims that it had paid kickbacks to prescribers of Trileptal, Diovan, Zelnorm, Sandostatin, Tekturna, and Exforge, in addition to claims that the company had promoted some of these drugs for unapproved uses. Even after entering into the CIA, Novartis persisted in alleged kickbacks to physicians through speakers programs to promote cardiovascular drugs Lotrel and Valturna and diabetes drug Starlix and allegedly failed to monitor speaker programs adequately to prevent alleged, illegal kickbacks, court papers indicate.
"While the pending cases are civil lawsuits, if the government decides that Novartis breached the CIA in persisting with allegedly illegal honoraria and speaker programs, as is alleged in the U.S. Attorney's complaint, criminal charges could follow, seeking to exclude Novartis from future Medicare and Medicaid reimbursements under Title 42 U.S.C. § 1320a-7," observes James J. McEldrew, III, Esquire, a member of the Qui Tam Team.
"It's noteworthy that court papers indicate that Novartis allegedly enhanced its kickback scheme to sustain market share just as generic competitor pharmaceutical products entered the marketplace," McEldrew explains.
The U.S. Attorney for the Southern District of New York's complaint joins a qui tam lawsuit. (Case citation: U.S. ex rel. Oswald Bilotta v. Novartis Pharmaceuticals, Corp., S.D.N.Y. 11-CV-00071-PGG).
The Qui Tam Team specializes in representing whistleblowers ("relators") throughout the United States and internationally in qui tam lawsuits brought under the False Claims Act. The False Claims Act allows private individuals to sue companies that are defrauding the federal government and to recover funds on the government's behalf. Whistleblowers may be entitled to 15 percent to 30 percent of the civil recoveries that result from the qui tam lawsuit.
Contact: The Qui Tam Team by email at QuiTamTeam(at)gmail(dot)com or visit us at http://www.quitamteam.com.