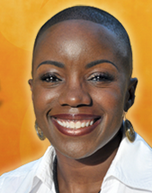 What choices are you making to create your dream life today?
Saint Louis, MO (PRWEB) April 05, 2013
Nationally recognized motivational speaker Rebeccah Bennett of the InPower Institute in St. Louis, announces the release of a new three part DVD video series on "How to create a successful life."
This new video series focuses on what nourishes and excites people, as well as teaching them how to give these things more of their undivided attention.
In this video series Bennett teaches people how to make room in their lives for more magic by showing them how to open more fully to the passions and people that in their lives.
Shot and produced by St. Louis video production company Video Solutions Inc, the DVD series provides nearly three hours of soul-stirring insights on how to create a life that overflows with wonder, gaining satisfaction, fulfillment, possibility and developing deep connection with others.
"We help you fully realize your power to create a healthy life and love-centered reality. With workshops, programs and events in five key areas, Inner/Spiritual Development, Personal Growth & Mastery, Family Health & Wellness, Community Empowerment & Connections, and Planetary Well-Being," says Bennett.
The purpose of the DVD series is to guide teach and then guide viewers using the simple steps required for experiencing greater joy and well-being.
Here's a sample from this new DVD series, see it on YouTube.
A native of Washington, D.C., Bennett spent the last 14 years in St. Louis, where she is active in the region's vibrant civic life, and serves as a mentor to local college, high school and elementary school students.
Additionally, she's also served on the board of directors of several regional non-profit organizations, and has chaired the board of the Professional Organization of Women.
"InPower Institute helps manifest the best we can imagine for ourselves, our families, our communities and our planet. As a center for inspiration, transformation and empowerment, our mission is to advance wholeness and well-being at every level of the human experience," says Bennett.
For More Information, visit: http://www.inpowerinstitute.com/site10/.
About: Rebeccah Bennett
Bennett has a political science degree from Swarthmore College and a Master's degree in Public Policy from the University of Michigan's Gerald R. Ford School of Public Policy.
About Video Solutions.tv:
Video Solutions TV is the premier video production company in St. Louis, Missouri for custom video. They cater their production services to both small and large business in Missouri, Illinois and Tennessee.