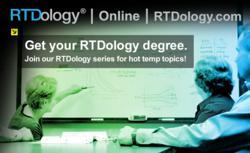 What folks are saying about RTDology® . . .

"Thanks for putting these sessions together. Very effective training"

"The presentation was very useful"

"Very good. Thanks for the invite, I'm looking forward to future sessions."
Minnetonka, MN (PRWEB) September 28, 2012
As part of their RTDology® Online on-going series of temperature training modules, Burns Engineering will present the following sessions over the next 12 months.
10/10/12 - Thermowell Selection and Application
11/14/12 - A Case for RTD Calibration and Verification
01/09/13 - Improving Accuracy in BioPharma Process Temperature Measurements
02/13/13 - RTD vs. Thermocouple: What's the Right Choice?
03/13/13 - RTD Accuracy
04/10/13 - Temperature Basics
05/08/13 - RTD Selection and Application
06/12/13 - Thermocouples
09/11/13 - Transmitters and Indicators
Visit http://www.burnsengineering.com/rtdology for more information and to register for these complimentary temperature education sessions.
These sessions cover various challenges and solutions for achieving confident temperature measurements with RTDs and Thermocouples.
The October session, Thermowell Selection & Application, highlights the various design and application considerations for thermowells including process connection styles, corrosion and erosion, wake frequency and strength calculations, and immersion length and accuracy.
The November session, A Case for RTD Calibration and Verification, addresses RTDs and why calibration and/or verification is critical to ensuring long-term confidence in temperature measurements.
Since 1960, Burns Engineering has been an industry leader in the design and manufacture of temperature measurement products for the Process, OEM and Metrology industries. Products include RTDs, Secondary SPRTs, Thermocouples, Thermowells, Transmitters and NVLAP® Accredited Calibrations (Lab Code 200706-0). Learn more about Burns Engineering at http://www.burnsengineering.com or contact directly at 800-328-3871.