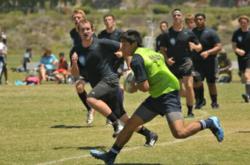 As rugby explodes in growth across the nation, we are excited to offer this incredible opportunity to the next generation of young rugby players.
San Rafael, CA (PRWEB) May 02, 2013
Nike Elite Rugby Camps has secured ten current or former Team USA players to coach young rugby players this summer. Elite's coaching staff will be headlined by current Team USA star player Colin Hawley. Hawley played for the USA Eagles National Team in the 2011 Rugby World Cup.
Hawley will coach the Stanford University Nike Elite Rugby Camp together with former USA 15s player/coach and current Stanford Director of Rugby, Matt Sherman. Sherman will direct the boy's and the girl's overnight camps at Stanford University. The Nike Elite Stanford girl's camp will also feature USA Women's National Team players, Bisi Ibrahim and Christina Nesberg. In addition to the camp at Stanford, Sherman will be directing a week-long day rugby camp in Marin County in Northern California.
Nike Elite Rugby Camps coaching staff also includes Team USA player and five-time All American at the University of California Berkeley, Chris Biller, as well as current team USA player Mike Petri. Petri represented the USA in both the 2007 and 2011 Rugby World Cup and will share his wealth of experience with Elite Rugby campers. Team USA players Zach Fenoglio, Brian Doyle, Shaun Davies, Nic Johnson and collegiate All Americans Chris Clever and Alex Lichtig complete the 2013 Elite coaching line-up.
Jason West, Vice President of US Sports Camps stated, "Nike Elite Rugby Camps offer young rugby players the opportunity to receive top-level coaching directly from national players. It's rare in any sport for young aspiring athletes to receive instruction directly from their heroes. We're blessed to be working with a great collection of athletes who truly want to give back to the game and move the sport forward domestically."
Since Ethan Willis founded Elite Rugby Camps, Team USA players have mentored and coached over 5,000 avid young rugby players. "By providing young players with the opportunity to work directly with USA players and coaches, they have been inspired to reach their goals both on and off the rugby field, from the most accomplished players in the game. As rugby explodes in growth across the nation, we are excited to offer this incredible opportunity to the next generation of young rugby players," said Willis.
Founded in 2009, the mission of ELITE Rugby Camps is to provide rugby education to young athletes and coaches, and engender confidence and self-esteem on and off the rugby field. ELITE is dedicated to providing campers with one on one and group coaching from current and past members of the USA Rugby Team. Coaches carefully construct each day to provide campers with the most memorable experience possible.
About US Sports Camps, Inc.
US Sports Camps (USSC), headquartered in San Rafael, California, is America's largest sports camp network and the licensed operator of Nike Sports Camps. The company has offered summer camps since 1975 with the same mission that defines it today: to shape a lifelong enjoyment of athletics through high quality sports education and skill enhancement. Additional rugby camp information can be found online at ussportscamps.com/rugby or by calling 1-800-645-3226.