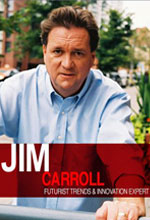 The future belongs to those who are fast!
South Plainfield, NJ (PRWEB) April 18, 2013
RVCF announces keynote Jim Carroll for the upcoming 2013 Annual Fall Conference in Scottsdale, Arizona
"The future belongs to those who are fast!" by Jim Carroll, Futurist, Trends & Innovation Expert
In the world of retail in 2013 and beyond, we will be seeing the more rapid emergence of new ways of doing business, and it's leading us to a time in which companies have to instantly be able to copy any move by their competition – or risk falling behind.
For example, think about what is going on in retail, with one major trend defining the future: the Apple Store checkout process, which involves the elimination of the cash register. Apple has such an impact on retail design and consumer behavior today that many other retailers are now scrambling to duplicate the process, trying to link themselves to the cool Apple cachet.
That's the new reality in the world of business — pacesetters today can swiftly and suddenly change the pace and structure of an industry, and other competitors have to scramble to keep up. Consider this scenario, which recently unfolded: Amazon announces a same day delivery in some major centers. Google and Walmart almost immediately jump on board. And in just a short time, retailers in every major city are going to have be able to play the same game!
Then there is in-store promotion. We're entering the era of constant video bombardment in the retail space. How fast is the trend towards constant interaction evolving? Consider the comments by Ron Boire, the new Chief Marketing Officer for Sears in the US (and former chief executive of Brookstone Inc.): "My focus will really be on creating more and better theater in the stores".
We are going to see a linking of this 'in-store theater' with our mobile devices and our social networking relationships. Our Facebook app for a store brand (or the fact we've 'liked' the brand) will know we're in the store, causing a customized commercial to run, offering us a personalized product promotion with a hefty discount. This type of scenario will be here faster than you think.
Fast format change, instant business model implementation and rapid-fire strategic moves. That's the new reality for retail business, and it's the innovators who will adapt. Join RVCF as international futurist, innovation and trends expert Jim Carroll challenges us about a world in which the future belongs to those who are fast. Jim's clients include The GAP, the Walt Disney Corporation, ESPN, Johnson & Johnson, the PGA of America, and many, many more.
The RVCF 2013 Annual Fall Conference will take place at the Westin Kierland in Scottsdale, AZ from Sunday, November 3 through Wednesday, November 6. For more information and to register, please visit us on the web at http://bit.ly/RVCF2013Fall.
About Jim Carroll
Jim Carroll, Futurist, Trends and Innovation Expert.
Jim Carroll is one of the world's leading futurists, trends & innovation experts. And it's his inspirational, transformative thinking that will help you discover opportunity in an era of high-velocity change. And in his most recent keynotes and leadership sessions, he has been helping his clients meet the challenges of the economic contraction by focusing on innovation, and by aligning their strategy to fast-paced future trends.
He speaks on a wide variety of topics, including technology, business model change, innovation, and global challenges and growth.
He is the author of several books, including "The Future Belongs To Those Who Are Fast", "Ready, Set, Done: How to Innovate When Faster is the New Fast" and "What I Learned from Frogs in Texas: Saving Your Skin with Forward Thinking Innovation."
About Retail Value Chain Federation.
Driving Continuous Innovation, Collaboration and Perfect Execution
RVCF promotes best practices, trading partner alignment, collaboration, and technology solutions to streamline operations, lower costs and speed goods to market throughout the retail value chain. For more information, visit http://www.rvcf.com.
Media Contact:
Sheri Kurdakul
media(at)rvcf(dot)com
646-442-3701
# # #