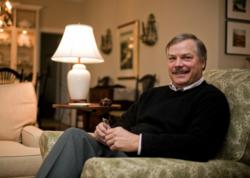 Milford, CT (PRWEB) May 08, 2013
Kenneth E. Bryant of Bead Industries, Inc., Milford, CT, received the Jeffrey Butland Family Owned Business of the Year from the U.S. Small Business Administration's Connecticut District Office.
The Jeffrey Butland Family-Owned Business of the Year is selected to honor a family-owned and operated business which has been passed on from one generation to another. Nominees must also serve as a majority owner and operator or bear principal responsibility for operating the small business with at least a fifteen-year track record. Anne Evans, District Director of the US Department of Commerce in Middletown, nominated Bead Industries for this award.
Bead Industries is comprised of two divisions: Bead Electronics and Bead Chain, and a wholly-owned subsidiary, McGuire Mfg. Company located in Cheshire, CT. Founded in 1914, Bead Industries developed and manufactured Bead Chain® for electric light pulls and other chain applications. Using the same innovative metal working process, it fabricated contact pins for the electronics industry in the mid-1920s. McGuire, one of Bead's loyal customers, was acquired in 1972.
During WWII the company delivered to various US and Canadian armed forces more than 22,000,000 Bead Chain® identification tag necklaces without a single reject. This achievement earned the company the Army-Navy Double EE flag, and Bead was given a special commendation by the US Ordinance Department.
Kenneth E. Bryant succeeded his father, Dexter Bryant in 1998, and soon after, relocated the company from a four-story factory in Bridgeport to a single story modern facility in Milford, while implementing lean manufacturing technologies. Ken also established an outside board of directors to guide Bead's strategic direction. Over the last five years, his three daughters and one son-in-law have joined the business to continue the legacy of Bead.