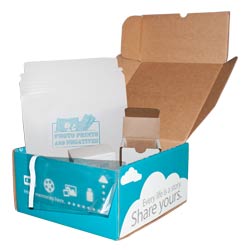 Heirloom prints can look great on our new print surfaces, like aluminum and canvas. This promotion is a way to keep those memories alive.
-- Fred H. Lerner, President and CEO, MailPix
Huntington Beach, CA (PRWEB) February 12, 2013
MailPix.com, the new photo-printing site, is scanning the first 40 prints at no charge in a new promotion, with additional prints scanned at 49 cents each. This affordable program saves images to DVD or Blu-Ray for easy sharing and archiving, using MailPix's free lifetime storage.
"MailPix wants to bring treasured prints alive with our free print scanning promotion," says Fred H. Lerner, president and CEO. "Heirloom prints can look great on our new print surfaces, like aluminum and canvas. This promotion is a way to keep those memories alive."
MailPix provides an EasyShip Kit (for a fee) to package photos, slides and negatives safely and securely, and includes a pre-paid UPS shipping label for online tracking.
ABOUT MAILPIX.COM
Founded in 2012, MailPix.com is the pre-eminent site for preserving photo memories as photo books, prints, cards, enlargements and other tangible products. The goal of MailPix is to keep costs low and to pass savings along to consumers. The MailPix site uses the latest technologies to compete head-to-head with established companies in the $2 billion photo personalization market. Featuring industry-leading Facebook and Instagram integration, MailPix is poised to help consumers make photo memories from the more than 70 percent of Facebook posts containing images.