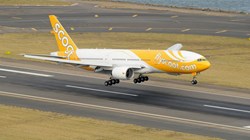 Agoda.com and Scoot airlines have partnered in a deal that will allow customers of the low cost airline to book hotels at their destination without ever leaving the Scoot website.
Singapore (PRWEB) August 07, 2013
Agoda.com, Asia's leading hotel booking site and part of Nasdaq-listed Priceline Group (Nasdaq:PCLN), has announced a partnership with budget airline Scoot that will allow customers to book hotels at their destination without ever leaving the Scoot website.
Billed as an airline "for the young, the young-at-heart and the value seeking," Scoot is the low-cost arm of famed Singapore Airlines that offers its guests great value airfares and empowerment to choose the frills and services they want without subsidizing the choices of others. Launched in November 2011, the company has carved out a niche for itself based on "Scootitude", a term coined to describe the unique attitude of the young airline to be different, engaging and fun-loving.
Now, customers who visit http://www.flyscoot.com/hotels can browse thousands of hotels from Agoda.com's inventory and book rooms worldwide, taking advantage of Agoda.com's lowest price guarantee.
Speaking of the deal, Ernst Hemmer, Agoda.com's Director Commercial said: "The partnership between Agoda.com and Scoot makes sense on many levels. Both companies put great value on providing a seamless and stress-free customer experience, and both strive to be easily reachable and connected, making travel affordable and accessible to travelers looking for great deals."
Scoot's growth since its maiden flight in June 2012 has been rapid – from a business plan to an operating airline in less than a year, the company now operates five Boeing 777-200 aircraft, with 20 Boeing 787's on order.
"At FlyScoot.com, our guests can enjoy a one-stop service to book air tickets, as well as add-on services such as baggage allowance, seat assignment, meals, ScooTV inflight entertainment, blankets & eye-masks, premium lounge access, ScootProtect Travel Insurance and now, ScootStays that offers affordable accommodation worldwide," said Campbell Wilson, Scoot's CEO. "We're pleased to leverage on Agoda.com's extensive hotel inventory and user-friendly booking engine, and we will continue to work with different partners to help our guests tailor the best value travel experience possible!"
To connect with Agoda.com for special deals on hotels worldwide, please visit our website at http://www.agoda.com .
Like us on Facebook at http://www.facebook.com/agoda or follow us on Google+ at http://plus.google.com/+agoda/.