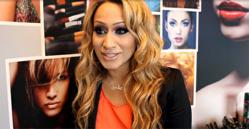 My ambitions have always been adventurous, but my vision and sheer determination has paved the way to making that dream a reality.
(PRWEB UK) 26 February 2013
Sculpt Beauty, the Multi Award Winning Make-Up Artists have announced their recent move to their new Headquarters and Training Academy in South Bermondsey, South East London to enable expansion and growth of the business.
Over the past few years, the Company has made tremendous strides.
"Sculpt Beauty was born 14 years ago, freelancing from home. My ambitions have always been adventurous, but my vision and sheer determination has paved the way to making that dream a reality. What I love about Sculpt Beauty is that it captures the essence of me. My vision, my creativity, my flair and my love for Make-Up & Fashion is truly transparent in my brand. If you know me, you know Sculpt Beauty!" Says founder Uzma Yakoob.
Sculpt Beauty has rapidly grown to become a reputable and distinctive brand with an International stage presence. Their social fan base has reached over 100,000 followers alongside their revolutionary iPhone app which, features in MACWORLD Magazine, has become one of the most successful Make-Up video apps since. When Sculpt Beauty launched its YouTube channel demonstrating DIY Make-Up Video Tutorials (hosted by Founder of Sculpt Beauty and Award Winning Make-Up Artist Uzma Yakoob), the channel was an instant success, hitting over a million views in less than a year!
The company has done far more than simply showcasing their professional industry secrets. "We launched Sculpt Beauty Academy five years ago, and since have trained Make-Up Artistry to thousands of hopeful individuals across UK and Europe. We will be expanding this success to New York and Dubai later this year! At Sculpt Beauty Academy we believe in order to create great Artists you need to be taught the right way. Our methods of teaching are beyond advanced and we ensure our artists are taught to a very high standard. They leave as confident professionals ready to establish and launch their own careers. We teach our Make-Up artists to create any look on any face shape, which is what makes a great Make-Up Artist."
The company has two reputable Make-Up brands which have quickly become popular within the professional and fashion industry. Sculpt Beauty Cosmetics being the Professional Range and Smoke and Rouge being the luxury Consumer Range. Both sold online at sculptbeauty.com, available worldwide.
This February, Sculpt Beauty moved into larger premises, housing all their products and services under one roof.
The fabulous new Headquarters has been designed to create areas for the separate functions of the business. The new space – a bright, expansive studio tucked away on Juno Way in the South East, will allow Uzma to work on her creative flair and conjure up magic that will bring Make-Up Artistry on a whole new level!
"Not only will the company have a place to hang its hat, but we are so pleased to have a home for our Training Academy." There will be a wide variety of classes; Professional Make-Up Artist Qualifications, Hair Styling for all occasions, Air Brushing, Henna Tattooing, Bridal Make-Up classes and much much more!
The Studio is a great new hub for budding Make-Up Artists – a place to pave your way into a realm of creative and artistic chic! " My creative juices are flowing...overflowing with exciting new ideas and designs and the reality of establishing these very soon is stirring its way through the industry! Our courses are designed to suit any level, from complete novices to established Make-Up Artists who are searching for innovative and fresh ideas to hone in their skills. However, if you want more than just Make-Up, more than a Qualification then, this IS the place to be. Every day brings something new and exciting, an experience that will lead your career into another era!"
"I believe we offer some of the best Make-Up artistry classes you can find in the UK, and we have developed a steady following over the last decade." Sculpt Beauty offers something new to the world of make-up – a blend of contemporary and high fashion combined with it's own funky delic style. The new Sculpt Beauty Headquarters will be the main centre of business activity where the entire training, in house photo shoots and running of Sculpt Beauty is held. "The diversity of Make-Up and fashion is growing here in the London – and the excitement is contagious! "
Beyond just offering classes, Uzma adds;
"What makes Sculpt Beauty different? For starters, our students are the main focus of our training sessions. We observe the capabilities of each student very closely and ensure they all reach the level they aspire. We believe in each and every one of them and continue to work on areas they find challenging. We have had countless Make-Up artists RE-TRAIN with us after enrolling in courses from other established Make-Up Academies! The new space will also help us launch The Make-Up Artists Agency; an Agency to look after all our Graduates, help them grow and develop their careers as Make-Up Artists.
Sculpt Beauty's new Headquarters, Sculpt London Studio is officially open. You can view classes on their website.
For more information, please contact 0800 270 7077 or visit http://www.sculptbeauty.com