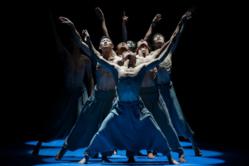 The most amazing dance drama infusing western modern dance and Tibetan traditional dancing.
Chicago, IL (PRWEB) January 15, 2013
The Xilin Art Center is proud to present Shambhala, an internationally recognized modern dance drama produced and performed by Wanma Dance Company of China, on February 8th, 2013 7 p.m. at the Athenaeum Theater. "Shambhala" was also recently performed at the National Center of Performing Arts in Beijing with over 5,000 seatings and received rave reviews from both the audience and the press. This is a unique opportunity for Chicagoans to experience this exotic, spiritual and modern dance program.
The director of Wanma Dance Company, Wanma Jiancuo is a world-renowned Tibetan dancer-choreographer who has received numerous awards for his stage production and choreography, nationally and internationally.
"Shambhala" depicts the spiritual pursuit of tranquility, balance, and happiness through a combination of traditional Tibetan and modern dance form. This intriguing 90 minute modern dance drama showcases the mysterious ancient Tibetan faith, life and activities in the Tibetan Plateau, in contrast with modern society's beliefs.
In the Tibetan culture, Shambhala means Xanadu or Shangri-La, a pure land, blissful heaven and paradise. Its meaning reflects the harmony of the Sun and Moon in each person's heart. The highest state of being for man comes from finding one's own Shambhala.
The Wanma Dance Company of China absorbs the elements of Chinese national and traditional dances and freely combines them with international concepts of the arts. Showing respect to all living things in the world, the Wanma Dance Company regards the stage as a long journey to the mountain top. With its sincerity, it makes its pilgrimage by dancing, meditating and marching forward.
For performance video and ticket information please visit: "Eacast.com/Shambhala"
Athenaeum Theater
2936 N. Southport Ave, Chicago, IL 60657
Friday, February 8, 2013 @ 7p.m.
For more information about this topic, please contact Linda Yang, Executive Director by calling 630.355.4322, e-mail at lindayang(at)xilin(dot)org
Press Release submitted by ChicagoChineseMedia.com