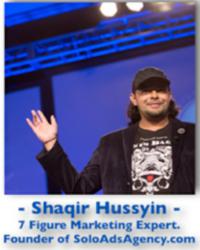 The more value that you provide to the next human being, the more income you're going to achieve. Your income is directly proportionate to how much value you carry to other people.
London, England (PRWEB) May 20, 2013
Renowned entrepreneur Shaqir Hussyin, founder of Solo Ads Agency and a highly sought-after marketing and paid traffic consultant and speaker, recently spoke with online marketing expert Daegan Smith in an interview that focused on the former's expertise in paid traffic, solo ads traffic, and lead generation techniques as well as his techniques for maintaining a winning business mindset.
Solo ads is an online marketing service that an enterprising individual can buy from an owner of a mailing list. The strategy's basic premise is that the owner of the email list sends out an email with an offer and a link to the buyer's preferred page. The strategy of buying solo ads is the very technique that led Hussyin to success in the fields of traffic and lead generation. The talented marketer has achieved feats such as turning a single, simple email ad into a profit of $72,000 and putting 80,000 people on his email list in just 30 days.
"It's a very rare combination of talent when you find a person who can be a top producer in an online business opportunity, but at the very same time knows traffic and can drive obscene amounts of traffic on call, on command whenever he wants," Smith says, pointing out that Hussyin is possibly the only person who currently does both, and at an advanced level to boot.
As the interview begins, Hussyin recounts how he dropped out of university and worked in construction before he discovered solo ads, which he believes ultimately lead him to the success he enjoys today. "In January 2010, I figured a few things out. I learned about how to get targeted traffic and how to find a super high converting offer. Matching those two together, at the end of January I had my first $45,000 month," he explains.
Understanding that money "is just an exchange of value," and not something that is more important than helping other people improve their lives, he explains, can help business owners attain extraordinary success. "The more value that you provide to the next human being, the more income you're going to achieve. Your income is directly proportionate to how much value you carry to other people."
One formula he frequently returns to is business magnate Donald Trump's take on leverage. "It was value multiplied by leverage equals wealth," he shares. "What is value? If you learn something and you're able to teach it to someone and you're able to execute something, you have value. You have a certain value of what you've learned and what you've inquired internally.
"Leveraging is just leveraging resources and tools and teachers and traffic. Once you put those two together, that's it. You create wealth. Those are the fundamental mechanics of what creates money."
Hussyin then proceeds to delve deeper into the concept of traffic. "Traffic is nothing more than bringing visitors to your website, and converting them into red-hot, scorching buyers," he says. Email traffic involves tapping into another person's knowledge, experience, and email list and leveraging oneself to get to the next level — the most powerful way, he adds, to get in front of an audience and sell one's offering.
"So how do we get profitable traffic? First, you have to find your end outcome and what it is you want to achieve. Then, you go back to say 'I get profitable traffic, but now I need a high converting offer.' You need both targeted traffic and a high converting offer ... which is what gives you cash flow residual income — the 'autopilot income' everyone hears of."
Locking down exclusivity is another strategy that Hussyin discussed with Smith. "What I did was to pinpoint traffic sources," says the entrepreneur. "I called up these traffic sources and said 'Hey listen, I'm going to purchase X amount of traffic, but I want exclusivity, so no one else can come in and buy traffic for this offer." This practice, as Smith elaborates, is a smart leveraging tactic that can bring a person to success and direct other people seeking the same results to that person — and on one else — to negotiate more profitable business deals.
To listen to Daegan Smith's entire interview with Shaqir Hussyin and learn more about the latter's revolutionary traffic and marketing initiatives, go to http://soloadsagency.com/daegan-smith-interviews-solo-ads-expert-shaqir-hussyin/.