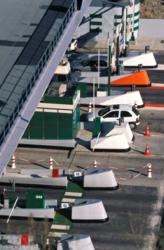 We worked as fast as we could but when the queues were getting too long pushed to work even harder.
(PRWEB UK) 31 January 2013
Simpson Millar LLP Solicitors, personal injury team are currently working on an interesting case that relates to an alleged repetitive work injury sustained by a passport control worker in Calais.
According to case documents, it is alleged that Mrs P suffered a severe repetitive strain injury from spending hours on end reaching out to passing cars to collect and scan the passports of passengers. Despite having made numerous complaints about poor working conditions and growing pains in her neck and shoulders, it is alleged that Mrs P and her team were continually pushed to their absolute limit.
Allegedly, it all started back in September 2008 when the Channel Tunnel fire diverted traffic through the Calais port where Mrs P and her team quickly found themselves under-staffed to cope with the additional pressure. Despite guidelines that employees must be rotated to a new station every hour to avoid repetitive strain injuries, it is alleged that Mrs P and others were asked to remain where they were – reaching out and scanning passports for five hours or more without a single break.
Mrs P said: "We were regularly short-staffed and the working conditions were appalling; the windows were in the wrong height and the chairs were old and broken. We worked as fast as we could but when the queues were getting too long pushed to work even harder. It was extremely stressful."
During those weeks it is alleged that Mrs P began to feel pain in her shoulders. At first she tried to ignore it but the pain grew and she finally made an appointment with her GP. During a week off work the ache subsided completely. Mrs P was provided with a note from her doctor, demanding that she be allowed hourly breaks to carry out a series of exercises and that she had to be able to rotate between stations. Allegedly, her employer didn't take any notice. The pain became almost unbearable but Mrs P was determined not to take any more time off sick. One day in June 2009 when she reached out after a passport it went terribly wrong; she screamed in pain and knew something bad had happened. But even then Mrs P only took a few days off work and gave it another go. The incident happened again, yet still the company allegedly denied that her pain was work related.
Finally an MRI scan was carried out which clearly shoved a tear in Mrs P's rotator cuff muscle. Surgery was the only option if she was to have any hope of being able to lift her arm again. "After the operation my surgeon said he had never seen a shoulder so mangled," she said.
It was a slow recovery and in October Mrs P was told that there was a 1 in 3 chance of the injury recurring if she resumed her previous job. She was now considered to have a permanent disability.
Having been off sick without pay for several months, it is alleged that the company then decided to fire Mrs P. She said: "I am 57 and now have a poor attendance record because of what they made me do. I am worried that I'll never be able to get a job again. Many of my former colleagues are suffering with similar problems but they, as I had been, are too scared to make a fuss for fear of losing their jobs. They could end up disabled like me."
Simpson Millar LLP Solicitors are now fighting to get Mrs P the compensation she deserves. "It is alleged that there was a clear failure to carry out a proper risk assessment and a complete lack of notice or care when Mrs P informed her manager that she was in severe pain," said Michelle Rhodes who is leading the case. "The company needs to take responsibility for having put a dedicated member of staff under extreme and unrealistic pressure in poor working conditions. We will do our best to make sure they do."
"Many of Mrs P's former colleagues in the Immigration Services are suffering from similar pains which might be caused by rotator cuff, bicep tendon and neck injuries. I urge them to get in touch before they too end up with permanent disabilities. Just because their employer may not be listening doesn't mean they haven't got the right to work in a safe environment."
Simpson Millar LLP Solicitors is a nationwide law firm with over 11 offices throughout England and Wales and have been successfully representing clients for over 150 years.