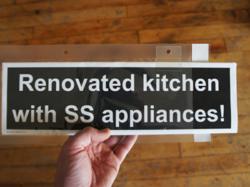 "Now REALTORS® can quickly and cost effectively highlight the unique features and amenities of each listing and even make changes to refresh their marketing throughout the listing,"
(PRWEB) May 29, 2013
Using components in a Sign Assembly Kit, REALTORS® can custom design sign riders online and print them instantly from any home or office printer; then assemble and display their custom sign riders from start to finish in just minutes.
"Now REALTORS® can quickly and cost effectively highlight the unique features and amenities of each listing and even make changes to refresh their marketing throughout the listing," said REBS Chair Jeannette Way. "As Sign Rider Store's exclusive distributor in California, REBS will be able to offer exclusive promotions and discounts to C.A.R. members and work with its more than 100 local associations of REALTORS® to introduce this exciting new opportunity."
Traditional sign riders can cost upwards of $10 per sign, plus another $5 to $7 for shipping. Using Sign Assembly Kits, offered in packs of 5 and 25, individual signs will cost approximately $3.50 to $5, depending on kit size.
"Cost aside, the real value behind our technology is that REALTORS® can now market their listings in a whole new way, with custom messaging to attract more leads," said Jeff D'Andrea, president of Sign Rider Store.
Sign Rider Store also allows REALTORS® to go beyond the basics with easy-to-use "add-ons" that can enhance signs and increase lead quality. Add-ons allow users to add logos and personal photos, create mobile photo galleries and generate lead capture sign riders that send listing information to prospective buyers to capture potential clients for REALTORS®.
Sign Rider Store is a New Jersey-based technology and service company that specializes in next-generation real estate solutions. The Sign Rider Store is the product of a two-year collaboration with customers. Further details are available at http://www.signriderstore.com.
Real Estate Business Services® Inc. (REBS®) is a subsidiary of the CALIFORNIA ASSOCIATION OF REALTORS® (C.A.R.) and is the leading provider of real estate products and services to practitioners in California and nationwide.
Leading the way... ® in California real estate for more than 100 years, the CALIFORNIA ASSOCIATION OF REALTORS® (http://www.car.org) is one of the largest state trade organizations in the United States, with more than 155,000 members dedicated to the advancement of professionalism in real estate. C.A.R. is headquartered in Los Angeles.