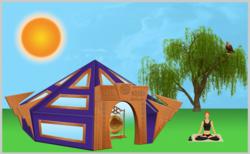 This geometric sound healing chamber will be hand crafted, complete with ornate visual artistry and will house a bevy of both traditional and modern resonance therapy tools to create the Soundala; a mandala of symbiotic sound.
San Francisco, CA (PRWEB) May 28, 2013
Sound has been used for healing since the beginning of time. Everyone responds to frequencies, from pre-natal experience through to our death. Everyone responds to rhythm, melody, and harmony. Everything has a frequency at which it naturally resonates, known as its Prime Resonant Frequency or PRF. At this frequency, an object absorbs energy more readily, every cell in the body, every thought and mental state vibrates and contains an optimum frequency.
The Soundala Temple will be a portable structure that fuses together vast scientific knowledge of resonance healing with ancient architectural and creative techniques honored by some of the world's most ancient spiritual traditions. SolAwakening has launched an Indiegogo campaign to construct and support this project: http://igg.me/at/The-Soundala-Project.
This eight-sided, octagon structure will be handcrafted and designed with sound acoustic technology. It will consist of poles and beams to create the shape that slot together using peg, post, and beam technique. The canvas custom-made canvas roof will consist of a very strong Tipi-like material that will allow airflow, protect from the elements, and can be painted to enhance future aesthetics. The Soundala Temple will be approximately 22 feet in diameter, 6 feet tall at the main entrance, with a maximum eight of 10-12 feet at its central apex.
The Soundala Temple structure will utilize cutting edge technologies employed in sound and resonance therapy. This targets the senses to promote the self to return to its optimal state of sonic balance. From this space of emotional receptivity, we are able to better access healthier choice discernment patterns, creative and imaginative thinking capacities, and objective experiential perspectives. Creating new expansive pathways of life prospective can have dramatically positive effects on our sense of happiness and well-being. This is the essence of The Soundala Temple: The development of a safe, healthy, and comfortable container that can help facilitate positive personal and community transformation.
With assistance from the funds from its Indigogo campaign and other contributors, this installation will be available to anyone that desires to experience and explore the transformational power of harmonic sound. Attendees at festivals and intentional events may seek to expand and grow during their experience. This chamber will house a space for them to do it consciously, comfortably, and safely. Within the Soundala Temple, health can be restored, stress reduced, and energy can be balanced and optimized. It is an experience, not solely held in the mind, but actually integrated into the body, mind and spirit.
Keyframe-Entertainment has joined SolAwakening as a media partner and is working to help transport the project to the Cymatica camp @ Burning Man. The Cymatica Satellite (Burning Man camp of the sound people) offer the gifts of education through visual materials displaying the history and story of sound as a creative and primary generative source among many cultures, workshops on conscious appreciation for shared spaces, the nature and act of sound on our own physical forms and consideration of what a sound looks like.
About Keyframe-Entertainment
Keyframe-Entertainment bridges underground EDM culture & the mainstream through transformational media. Their goal is to create global positive change and enhance the living experience by inspiring, informing and entertaining. Keyframe was launched 2004 as a music label and artist management company and over the years expanded its scope to include transformational films and events.
About SolAwakening: SolAwakening is a site that offers an empowering transformational experiences for the mind, body and spirit through learning, healing and balancing. SolAwakening will help visitors "See with the eyes of your soul..."