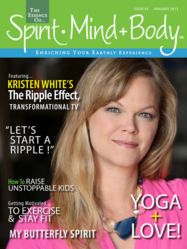 We are proud to be associated and partnering with Kristen White. Her ability to bring the east and west spirituality aspects into a TV show are incredible - Venu Sripada
Sterling, VA (PRWEB) February 06, 2013
"Do you ever get tired of all the bad news out there?" That's the premise of The Essence of Spirit*Mind + Body's January feature interview with spirituality and transformation author and TV personality Kristen White.
As a media personality and television journalist, White saw firsthand, the daily desire of the media to gain ratings and viewership through the calculated storytelling and overemphasis, or continuous coverage, of tragic, emotional or graphic events. Her journey led her to discover that it's not just news that focuses on the negativity of daily life and she made a decision that would change her perspective forever.
Find out what changed Kristen White's perspective by downloading the January issue on iTunes.
The January issue also features contributors from some of the top thought leaders in spirituality, self-help, and mind, body and soul nourishing. Other articles include "Intuition: Your Secret Talent for Business and Life", "Yoga and Romance?", "Wisdom from an Ancient Roman God on Sex", "The New Year, and Being Where you Are", and "Unveiling the Truth About the Conscious Women".
Get a free trial issue from the App Store now, and for a limited time, subscribe to the magazine for $1.99 a month—60% off the retail price.
About Kristen White:
Professional business and life coach, media coach, author mentor, video producer, spirituality/transformational author, thought leader, speaker, trainer, radio host and intuitive business designer, Kristen White enjoys helping entrepreneurs succeed in business and in life. Kristen brings more than a decade of experience as an award-winning television journalist and anchor to her new show, The Ripple Effect, airing in six U.S. markets and on Charter Cable. She is a 2012 recipient of three Stevie Awards for Women in Business for Video of the Year, Mentor/Coach of the Year and Female Entrepreneur of the Year. For more information, please visit http://www.kristenwhitetv.com.
About The Essence of Spirit*Mind + Body:
A monthly interactive digital magazine, The Essence of Spirit*Mind + Body sparks connection to life purpose, inspires breakthroughs, and get people back in touch with charge. With many relevant articles, videos, interviews and tips from over 20 contributors, the magazine is designed to enrich early experience and provide valuable insight. Download it from iTunes or http://www.theessenceofspiritmindbody.com/.