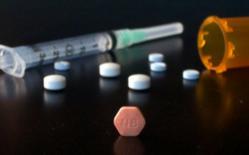 When a company is inadvertently contributing to a nation's habit, turning our country into a bunch of over medicated junkies…then we see overdose deaths occurring every 19 minutes in the US? I don't feel bad at all for UPS. Good for our Government."
Denver, Colorado (PRWEB) April 10, 2013
The war on prescription painkiller abuse is heightening. After years of ignoring federal authorities, UPS must now reconcile their mistake of letting shipments of illegal drugs slip through their system; according to a New York Times article on March 30th, UPS will forfeit $40 million to federal authorities. Pure Health Group Inc. supports this decision and considers the action a victory in prescription painkiller overdose death prevention.
It was bound to happen. Illegal shipments of online pharmacy drugs have occurred for years; and for years, United Parcel Service looked the other way. According to a New York Times article published March 29, 2013, "United Parcel Service has agreed to forfeit $40 million that it earned from illegal Internet pharmacies that shipped drugs using U.P.S. services, federal authorities said on Friday."
Since 2003, UPS was put on notice to put procedures in place to prevent unauthorized drug shipments, but failed to put any system in place to change.
John Vox, CEO and founder of Pure Health Group Inc. stated today, "This is a huge deal for getting overdose deaths down. We're pleased with the Justice Department's decision. It's about time the government take notice of this activity. The less a drug is illegally distributed, the less the drug is available for use, thus, the less likely someone's able to become addicted to these drugs and die from an overdose."
Pure Health Group, a company founded in Denver, Colorado in 2008 is a leading global manufacturer of nutraceuticals that help people addicted to opiates and prescription painkillers successfully get clean with their products. They stay on top of what's happening with anything to do with prescription drugs, like, UPS getting called out by the government. They have been committed to helping people get through the withdrawal process from drugs and are fiercely committed to heightening awareness of painkiller overdose deaths.
Vox, who was once addicted to prescription painkillers after difficult back surgery, said he founded the company to help people get clean. "Withdrawal from opiates or painkillers is a brutal battle. It's like having the flu, times 50. You have no energy, you're depressed, can't sleep, eat, think; you basically can't function. I founded Pure Health Group because I didn't want anyone to go through what I did, without any help."
Vox stated that UPS should have taken the government's words seriously. "Whether they [UPS] believe it or not, these shipments helped to contribute to the prescription painkiller epidemic our country is in now. Essentially, they weakened our country, aiding in getting millions of people addicted to whatever drug they were carelessly delivering to the 'average Joe', and now that they have been called out; hopefully, as a country we can re-group and begin to recognize the true problem occurring and really address the prescription painkiller epidemic."
Most drug addicts of prescription pills (or others), after having exhausted all other options of obtaining the drug legally such as "doctor shopping" to get more scripts, stoop to buying or stealing drugs from friends, family or even getting drugs on the street. After they are either caught or fear the street habits, they seek alternate ways to obtain their drug. Many times they go online and order drugs from "online pharmacies" in other countries, mostly from India or the UK. They pay for the drug discreetly and the drug is shipped to them, no questions asked... until now.
Vox thinks the government's action is long overdue; he is in fact outraged it didn't happen sooner. "When a company is inadvertently contributing to a nation's habit, which has basically turned our country into a bunch of over medicated, pill popping junkies who are likely clueless about what they're getting from these online places and, thus what they are ingesting at times, and then we see overdose deaths occurring every 19 minutes in the US... while no one likes getting caught, in this case, I don't feel bad at all for UPS. Good for our Government."
Vox says that there is still a lot of work to be done and the war on prescription painkiller abuse is just now coming to the forefront of the nation's attention. "Society has ignored overdoses from pain pills for too long. Say someone gets shot and killed on the streets from a gang fight, or a school is gunned down and kids are killed by a crazed lunatic... as a nation we immediately take notice and demand that harsher gun laws need to be put into place...these horrible events certainly deserve action to be taken. Yet, every day, a 100 people a day are also dying from overdosing on pain pills or opiates. Where, may I ask, is the public outcry for changing prescription pill writing policies or for doctors to be held accountable? Where is the demand that our over medicated society be put 'on notice' also?"
Vox says that more emphasis needs to be placed on getting people off of their addiction, not feeding them. "We want a cleaner society, and we are demanding change. So, bring it on."
Pure Health Group is a Denver based company, founded in 2008. More information about them is available on their website at http://www.purehealthgroup.com.