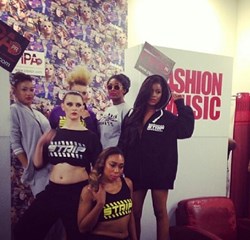 'I wanted to be different,' he says and 'being different on my STRIP means not selling drugs, rapping or any of the other recognised ways of getting on.'
(PRWEB UK) 10 November 2013
Come to Stratford's Westfield and strip!
STRIP clothingS POPS UP, November
http://www.stripclothings.com
Favourites on the East London street scene, STRIP clothingS is going large when they launch their range in the pop up store at Stratford's Westfield from November 1st as part of the fashion meets music event.
The brand STRIP, which was launched by Neil 'Down' refers to a time and place where music and fashion are united at a specific location. The STRIP is where all your problems go away and you can express your true self.
STRIP clothingS (don't forget the S), started as an East London underground fashion statement which was picked up by Circle Sports who have bought the Winter 2013 range.
Neil (whose street name is 'Down' and his familial name is actually Oppong) was bought up in an area where gangs were king and tribes a necessity.
Fashion Meets Music is the industry event fusing runway, fun, performance and networking.
The Winter 2013 range is simple to understand. Chose between Classic or Engineered.
Prices from £14.99 – to £99.99
For further information, contact: 020 7 724 8088.
E: info(at)stripclothings(dot)com
http://www.stripclothing.com
Stockists: Circle Sports, 126 Kingsland Highstreet and 99 Church Street, NW8