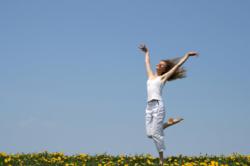 "This is a great opportunity to shake off any remaining winter energy, cleanse your system and move forward into a glorious summer," Denise Bunch said.
Eagan, Minnesota (PRWEB) June 18, 2013
With summer solstice fast approaching, YogaSoul Center in Eagan is recommending healing sessions that will help cleanse your mind and body to prepare for summer.
A person's diet, stress levels, environmental factors and other issues can contribute to their energy levels. So it's essential to cleanse your energy centers, particularly before a change of seasons, said Denise Bunch, YogaSoul leader, Reiki Master Healer, E-RYT 500 Yoga Teacher and owner of Moon Lily Yoga.
"This is a great opportunity to shake off any remaining winter energy, cleanse your system and move forward into a glorious summer," Denise said.
YogaSoul offers a variety of holistic healing services, which can help people with any issue - physical, emotional or spiritual. Denise offers Reiki energy healing, in addition to her yoga classes, Pilates classes, workshops as well as private yoga or Pilates sessions. She began her journey studying yoga 18 years ago to recover and heal from a stressful lifestyle. In her journey, she has found the powerful healing effects of holistic based practices. These practices have included yoga, Reiki sessions, and Pilates. Developing a deep connection to the world around her and to her divine purpose of bringing these modalities to others, Denise assists others in finding a stress-free and joyful life.
YogaSoul's roster of healers also includes Della McGee, YogaSoul leader, intuitive teacher, healer, psychic and Kundalini Yoga instructor. Della has been assisting clients for more than 17 years through her intuitive and healing gifts. In addition to her classes and workshops, she offers intuitive readings to help people gain clarity on questions about relationships, career and health. During a session with her, people can experience chakra clearing, balancing and decording, as well as discover past lives, soul contracts and channeled messages. She also offers mind-body attunement appointments which bring the body-mind into harmony and create a catalyst for alignment and true health.
"My passion is helping others overcome the blocks they are encountering," Della said.
YogaSoul Center's mission is to help clients win the battle against stress. It has an extensive class offering in several styles of yoga, including Kundalini, Hatha and Yin. It boasts a fully equipped STOTT Pilates studio and also offers Tai Chi. Its full roster of teachers and healers provide clients with a variety of healing services, including intuitive readings, Reiki, Thai yoga bodywork, Ayurveda, energy work and several others. YogaSoul also hosts special workshops and yoga teacher training.
To see a full schedule, make an appointment with a healer or sign up for a class, visit YogaSoul's website, http://yogasoul-center.com/. New students get their first week of classes free