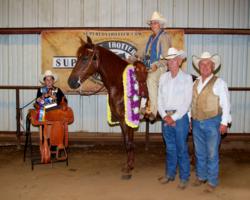 "Everybody was so relaxed, and there was real camaraderie at this show."
Mt. Vernon, MI (PRWEB) June 22, 2013
A great-grandmother and a 10-year-old girl were the winning riders in the first-ever Missouri Fox Trotting Super Horse Competition, held June 13, 14, and 15, 2013, in Mount Vernon, Missouri at the Flying M Arena.
Sally Scott, a great-grandmother who lives in Rogersville, Missouri, and her horse, A Thrill a Minute, won the Missouri Fox Trotting Super Horse title. 10-year-old Reagan Stevens, of Marshfield, Missouri, and her palomino pony Micro Sunrise captured the Missouri Fox Trotting Super Pony award. Each took home a custom Boss Man Saddle and nearly a thousand dollars in payback money, in addition to other rewards.
"This felt good for a lot of reasons," said Scott. "Everybody was so relaxed, and there was real camaraderie. When you go away with top honors and your competitors are sincerely happy for you, that's important to me. It was fun to have such a good program, and I was happy with how my horse and I did as a team."
The competition, which drew horse and rider teams from five states, was developed, in part, to showcase the ability of the versatile Missouri Fox Trotting Horse to compete in several completely different types of classes with the same rider. The show came about because of simple "supply and demand," said show manager Rick Gates, of Catoosa, Oklahoma. "90 per cent of Missouri Fox Trotter owners use their horses for something other than just performance (gaiting) showing. The demand came from them, so I'm going to supply it."
Competitors tested their skills in conformation (beauty) classes, traditional horse-show gaiting classes, and ranch-horse classes such as roping and cutting cattle out from a herd.
The show's bigger winners, though, may have been its developers and sponsors, who were delighted with the competition's good turnout and friendly, supportive atmosphere. Gates believes this was due, in part, to the emphasis on youth participation and the inclusion of about 9 special needs riders, whose classes created "a fun environment."
Therapeutic riders from Equi-Librium of Springfield, Missouri, and Horses of Hope in Buffalo, Missouri, and Baxter Springs, Kansas, participated in their own special classes amid loud cheers from the other riders. "Therapeutic riders don't traditionally get the opportunity to ride in a real horse show," said Billie Rudminat of Equi-Librium. "This allowed them to get in front of people and feel success and the warmth of the crowd."
"This show was really fun," said Super Pony competition winner, Reagan Stevens. "I'm glad I won, and I'm proud of my pony. I appreciate winning, and I want to thank the people who made it possible. I also want to thank my family and my pony for their support," she said.
Plans are already being made for the 2014 Missouri Fox Trotter Super Horse Competition, which will again include therapeutic riders.
About the Missouri Fox Trotting Horse
The Missouri Fox Trotting Horse was developed in the Ozark hills of southern Missouri and northern Arkansas. Known for its iconic foxtrot gait, in which the front legs appear to be walking and the hind legs appear to be trotting, the Fox Trotter was bred to be an easy-moving all-around farm horse that could comfortably carry a rider over rugged terrain for hours at a time. The Missouri Fox Trotting Horse is popular throughout the world because of its smooth gait, gentle temperament and versatility.
###