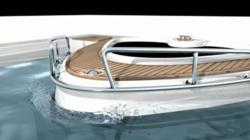 It's a design concept borne out of the fact that many of our pool owners also either own their own boat, or enjoy yachting.
Gatwick, West Sussex (PRWEB UK) 6 May 2013
What do you get the person who just can't bear being on dry land away from their boat, and gets itchy deck feet seemingly within minutes of stepping off their craft and on to the jetty? A leading UK swimming pool installer thinks they have the answer.
Compass Pools UK Ltd have just launched (a word that takes on a whole new meaning in this context) onto the British market the 'Yacht Pool'. The Yacht Pool is the latest design in the Compass Pools range of one-piece in-ground swimming pools. Compass Pools are the world's pioneers of one-piece pool technology. A one-piece pool is, as its name implies, one that is manufactured in its entirety in the factory, transported to site on the back of a large lorry, then craned into an excavation in the new owner's back garden.
Alex Kemsley, Compass Pools UK's managing director says of the new Yacht Pool, "it's a design concept borne out of the fact that many of our pool owners also either own their own boat, or enjoy yachting. This is probably not a coincidence as both pool ownership and boat ownership appeal to those who enjoy spending down-time outdoors being active with friends and family, and socialising in or around water. So the design and features of the Yacht Pool is an homage to that lifestyle."
The Yacht Pool features some very obvious nautical styling cues, from the teak decking surrounding the integral hydrotherapy hot tub, to the polished steel handrails adorning each side of the stylised bow. Even the controls which operate the hydrotherapy jets are based on a pair of stainless steel marine throttle levers.
The Yacht Pool features other refinements like multi-coloured LED underwater lighting and a counter-current swimming unit, which produces a current within the pool which the owner can swim against for as long as they care to without ever leaving the same spot - a bit like the swimming equivalent of a running machine. The pool structure itself is, uniquely to Compass Pools, a multi-layer composite featuring a ceramic laminate and, with another nod to marine industries, carbon-fibre. This, Compass Pools tells us, gives the pool superior structural integrity, backed by Compass's 50 year guarantee; and with a finish which, unlike older methods of pool construction, never requires relining, retiling or replastering.
Prices for the Yacht Pool start at £150,000 installed. For further information, please call Alex Kemsley on 0333 4567 111, or go to http://www.compass-pools.co.uk.