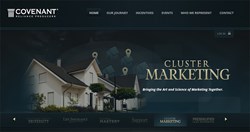 Nashville, TN (PRWEB) January 31, 2013
Ten Fast Feet, an interactive marketing agency, has announced it has signed Covenant Reliance Producers, a national insurance marketing organization, to a 1-year retainer relationship to develop its digital marketing strategy. The retainer will continue through Nov. 30, 2013.
During the course of the relationship, Ten Fast Feet will develop a digitally-focused marketing plan to strengthen the positioning of Covenant Reliance Producers as the premier insurance marketing organization in the industry.
Team members from Ten Fast Feet traveled to Colorado in September 2012 to observe and participate in a 3-day training seminar hosted by Covenant for its producers. Likewise, Ten Fast Feet members are currently participating in the Covenant Reliance Producers Elite conference, which is being held Jan. 31 and Feb. 1, 2013, in Nashville.
Previously, Ten Fast Feet was responsible for the company's branding refresh and website redesign, both of which were unveiled in November 2012.
"This is a long-term relationship we're very excited about," said John Maddox, chief marketing officer and co-founder of Ten Fast Feet. "Covenant Reliance Producers is a solid company with strong leadership and we're looking forward to growing and strengthening its brand."
About Ten Fast Feet:
Ten Fast Feet is an interactive marketing agency, focusing on digital design, development and strategy. Located in downtown Nashville, Tenn., Ten Fast Feet specializes in solving business problems with technology-centric solutions. It serves the start-up/entrepreneur, small- to mid-sized business and non-profit communities by providing experienced insight to help improve strategy, content and delivery through all communications channels to reach, engage and convert users.