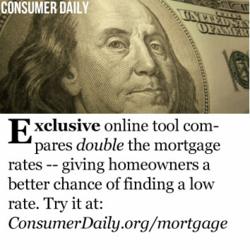 Consumer Daily takes a unique approach and gives mortgage refinance rates from two large databases.
Palm Beach, FL (PRWEB) January 23, 2013
A second significant news items surfaced this month regarding refinancing a home mortgage. Homeowners have started to slow down on their requests to refinance, but this is good news for homeowners that have waited until now to refinance.
Because not as many homeowners are refinancing, that means many banks are no longer busy filling refinance requests. When there is less demand, banks start to advertise lower rates. Even though not all banks are dropping rates, there is an efficient way to find these lowered rates.
Consumer Daily developed a mortgage rates comparison tool to find more rates than nearly any mortgage website. Research has found that some of the banks and lenders with the lowest rates can be quite a challenge to find. Consumer Daily's secret is that it uses two large databases of lenders to find as many rates as possible. Most mortgage websites only use one database to run comparisons. To try out this comparison, use the following URL:
http://www.consumerdaily.org/mortgage/
For example, for the most common type of home loan, 30 year fixed, the following monthly payments have been found for two different lenders and also two home loan amounts:
Homeowners with a $150,000 balance;
Lender (lowest): $663/month;
Lender (highest): $704/month;
Savings: $492.00/year.
Homeowners with a $300,000 balance;
Lender (lowest): $1,306/month;
Lender (highest): $1,395/month;
Savings: $1,068.00/year.
The above rates are from lenders advertising their best rates. Even the difference in their low rates, there is quite a difference. The savings add up and provide enough to cover a full month's payment every one and a half years.
Check today's refinance rates from two large databases of lenders; they are available here.
In Consumer Daily, the users only need to provide their home value, zip code as well as mortgage amount to instantly receive rates coming from numerous lenders and banks. Consumer Daily is located at Palm Beach, Florida but displays rates across all of the United States of America.